---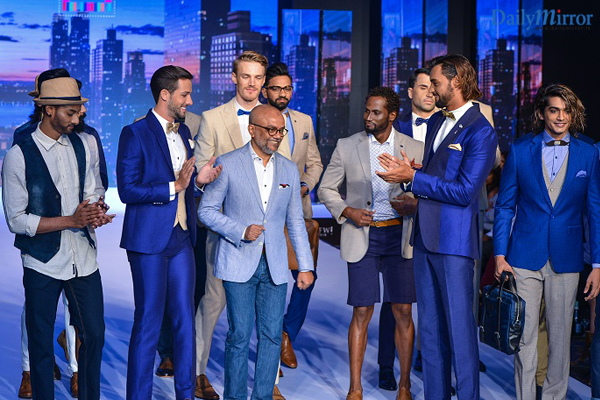 Fouzul Hameed - Managing Director, Hameedia with models
The FH brand of designer wear for men celebrated 10 years of sprucing gents' wardrobes by unveiling a spectacular collection at the Colombo Fashion Week (CFW) 2018. Fouzul Hameed, the menswear expert designer behind the FH brand, once again showcased the power looks for men with the panache of runways in the fashion capitals of the world on 24th March 2018 at the Hilton Colombo.
The 10th anniversary FH Collection was inspired from enduring Italy's architecture, atmosphere, environment, people and nature. These elements fuse to create unique masterpieces to render the wearer the envy of all, while making a distinctive style statement. This new collection infuses sustainability with three collections made from natural fibre, cotton, linen and wool with blue and beige colour combinations.
The De Rigueur collection offered a more laid-back look and includes trendy and sporty styles of clothing that are tailor-made for men seeking a more relaxed and casual look. The Contemporary collection included an exquisite range of chic, day and evening wear which are designed to enable men to stay on par with the latest fashion trends in the world. This collection features an exclusive line of trendy smart casuals that could be dressed up or down depending on the occasion. The Celebrate Life collection featured a range of tailor-made pieces that adds a refined and classy look to any celebratory occasion.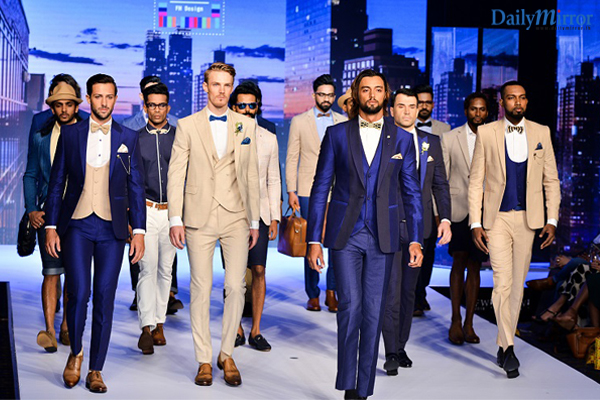 Models showcasing Hameedia's Italian inspired collection
Commenting on his Italy-inspired collection, the legend Fouzul Hameed said, "It gives me immense pride to mark the 10th anniversary of FH at CFW with a special collection that will stand out at CFW. The new collection uses natural materials that are ideal for the Sri Lankan summers while reflecting a 'back to nature' feel. The sense of style amongst Sri Lankan men is fast evolving and I'm sure the eclectic pieces in this collection will add the right drama and pizzazz to the stylish male's wardrobe."