---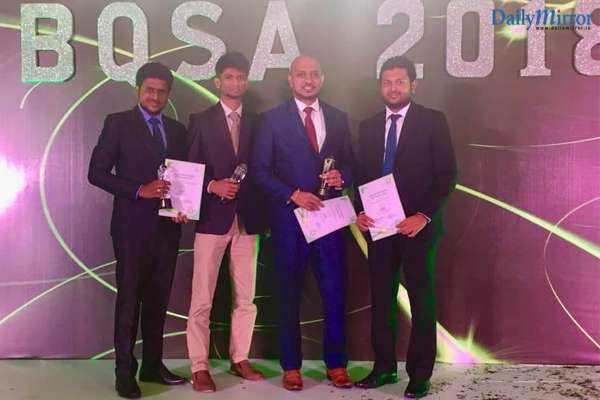 L-R Malitha Ratnayake – Tech Lead, Lasith Ludmilan – Associate QA Engineer, Parakrama Ranasinghe – Tech Lead and Charith Liyanagamage – Project Manager from Synapsys.
SYNAPSYS, the Fintech subsidiary of DFCC Bank, won 3 Merit awards for its products - VInnovate (Application Tools & Platforms category), Octoplex (General Application category) and RM on APP "PremierGo" (General Application category), at the high profile awards night held on 19th October at Hotel Galadari. The NBQSA Awards, organised by the Sri Lankan chapter of the BCS - The Chartered Institute for IT over the past 18 years, is presented in recognition of software products that are of exceptional quality and built to compete in the international market.
Commenting on the accolade, CEO of SYNAPSYS, Dinesh Fernandopulle said, "We are pleased to once again be recognised at the prestigious NBQSA Awards for our innovative solutions. SYNAPSYS has made tremendous advances in driving Fintech solutions for Sri Lankan businesses. Our continued presence as one of the NBQSA awardees every year reflects our sustained excellence. SYNAPSYS is committed to pioneering innovative digital solutions to deliver efficiency backed by our technology and business acumen."
The CEO of DFCC Bank and Chairman of Synapsys, Lakshman Silva added, "SYNAPSYS has been growing from strength to strength in the digital solutions space and is the preferred solutions partner across many industries. Technology is evolving fast and SYNAPSYS ensures that DFCC Bank and other clients locally and overseas are at the forefront of innovation."
Winning a Merit award, VInnovate is an intermediate layer which enables multiple third-party systems to get connected with a banks' core banking system with proper validation and security. With the rapidly changing technology environment today, banks have to offer real time transactions on customers' fingertips with integration to many third-party systems while ensuring the expected security and compliance requirements.
SYNAPSYS' Octoplex solution was also received an award as a superior Meeting & Workflow Management Solution which enables users the access through cross-platform hardware devices (Apple, Android and Windows). It supports a paperless business activities such as setting-up different functional committees, managing calendars & agendas, powerful workflow and maintaining a single updated document with version control. It provides simultaneous access for all participants to comment, approve & vote on documents. In fact, internal Board and management meetings at DFCC Bank are conducted through the Octoplex to review and transfer of information such as Board and Committee minutes.
RM on App also received a Merit award as a secure communication platform between Premier Customers and Relationship Managers at the Bank and ensures quality customer engagement. DFCC Bank's Premier GO app for its premier customers is supported by this application. It provides accurate and insightful market results while eliminating barriers in communication channels. RM on App enables bank's premier customers the facilities of appointment scheduling and video calling with relationship managers, receiving financial updates notifications, access to exclusive premier offers, etc. The end result is measurable customer engagement resulting in continuous improvement.

SYNAPSYS, a subsidiary of DFCC Bank PLC, is a dynamic and innovative technology firm with an array of products and services supporting Banks, Capital Markets, Insurance and Retail Payments across Asia and the Pacific. The unparalleled service commitment offered by the employees has enabled SYNAPSYS to continue a track record of NBQSA award winning platforms, MBANX Mobile Teller a few years ago, METRIX Analytics in 2015 and MBANX TIPS in 2016.