---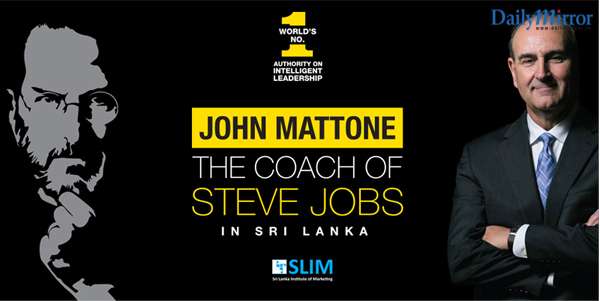 SLIM proudly presents the coach of Steve Jobs, John Mattone in Sri Lanka for an exclusive intelligent leadership workshop on 12th and 13th June. The two-day workshop consisting of 'The Knowledge Forum' and 'CEO's Breakfast Edition' will be held at the Shangri La and the Cinnamon Grand Hotels respectively.
Turning another chapter to mark a milestone in the history of SLIM after the success of 'Ron Kaufman Live in Sri Lanka' in 2017, the national body for marketing in Sri Lanka once again ventures on yet another international leadership event to host John Mattone in Sri Lanka.
The world's leading authority and best-selling author, Mattone is scheduled to feature two forums, namely 'The Knowledge Forum', on 12th June at Shangri-la Hotel focusing on "Intelligent leadership: Elevating the status-quo" for anyone who wants to be a true leader irrespective of the profession that they are in, and the 'CEO's Forum', on 13th June 2018 at the Cinnamon Grand focusing on "Transforming Culture;A strategic imperative for future" for corporate spearheads, who are decision makers in organizations.
The President of SLIM, Pradeep Edward, CEO of Lanka Hospitals Diagnostics said, "The culture of an organization is decided and nurtured mainly by leadership. You play an important role in ensuring that development priorities and plans will further the growth and improvement of your organization. Therefore, do not miss this once-in-a-lifetime opportunity to learn and to be coached by the bestof the best, John Mattone, coach of Steve Jobs, the founder of Apple Inc., and uncover the secrets to penetrate through a leadership driven marketing culture."
Thushara Perera, the advisor to the project added, "Sri Lanka Institute of Marketing is honored to present 'John Mattone in Sri Lanka', which will be another hallmark event by SLIM to the Sri Lankan marketing, management and business fraternities. This workshop with John Mattone will be a cutting edge session which will reinforce and provide you with the knowledge to penetrate the highly competitive marketing industry. Also as a value addition to registered participants, SLIM provides an opportunity to have 30 days free coaching by John Mattone."
A best-selling author, the world's #1 authority on Intelligent Leadership and one of the world's most in-demand CEO coaches & leadership speakers, John Mattone was named one of the eight finalists for the prestigious 2017 Thinkers50 Leadership Award recognizing the world's top leadership authority and thinker. In 2013, Mattone was awarded the coveted Master Corporate Executive Coach (MCEC) certification from the Association of Corporate Executive Coaches and honored with the prestigious International Executive Coach Thought Leader of Distinction Award in 2015. He also received an honorary lifetime MCEC, becoming one of only four global executive coaches to hold this certification currently. Mattone has a B.S. Degree in Management &Organizational Behavior from Babson College and a M.S. Degree in Industrial/Organizational Psychology from UCF and serves on the executive MBA faculty at FAU.
For more details call Mihirinie 0703 701 166 or Prageeth 0703 069 031 or log on to www.slim.lk/john-mattone-live-in-sri-lanka/