---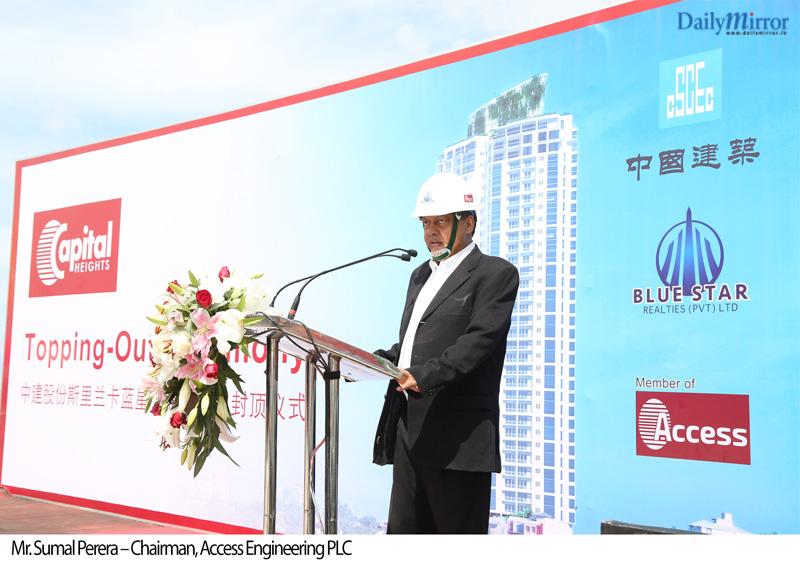 As the Access Group commemorates 30 years in Sri Lanka, 'Capital Heights', its signature project, developed by Blue Star Realties (Pvt) Ltd. (subsidiary of Access Engineering PLC) resonates in the hearts of hundreds of Sri Lankans living here and abroad, celebrated the 'Topping-Out Ceremony' atop the completed 40th floor.
Blue Star Realties, under the aegis of the Access Group, envisions homes with real value, in an ever-changing skyline, as the group has diversified its business over the years, into engineering and construction, real estate, automotive, healthcare, information technology, telecommunication, international trading and education sectors.
The elegant silhouette of Capital Heights adds a touch of distinction, finesse and magnificence to the vibrant heart of the capital city – Sri Jayawardenapura Kotte. Exuding convenience as a design philosophy, flawlessly integrating the green spaces of the Rajagiriya wetlands to its unique curvilinear design, Capital Heights commands a breath-taking, 360-degree view from atop its completed 40th level. "In 2018 October the Project was on the 6th level and in 2019 October we are atop the 40th level and Topping Out" said Rajitha Jayasuriya, Director Sales & Marketing of Capital Heights.
The unmatched progress of the Capital Heights, stand testament to the combined excellence of Access Engineering PLC and China State Construction Engineering Corporation, the global construction giant. The success story is attributed to the dedication, commitment and the passion of the highly skilled team of professionals behind the scene.
As the 'Topping-Out Ceremony' of Capital Heights is celebrated, 242 homeowners look forward in eager anticipation to move-in by 2020 to an exquisite living space and superlative investment.