---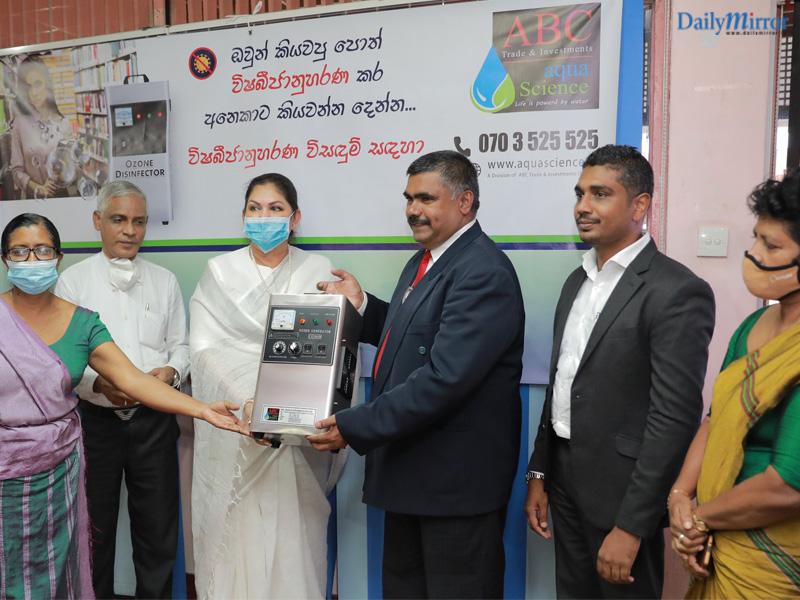 Varuni Gangabadaarachchi – Chief Librarian – Public Library Colombo, T M Iqbal- Deputy Mayor – Colombo Municipal Council, Rosy Senanayake – Mayor of Colombo Municipal Council, A Jayaseelan – Director / CEO ABC Trade & Investments (Pvt) Ltd, Kasun Ratnayake – COO ABC T&I Aqua Science, Chintha Illayaperuma – Deputy Librarian - Public Library Colombo
ABC Trade and Investments (Pvt.,) Ltd AQUA SCIENCE Business Division, a well-established service provider in Water Treatment Technology for purified drinking water and industrial water purification, waste water management systems, announces the introduction of Indoor Air Disinfection systems in combatting Covid 19 situation in the country through two developed technologies; the Ozone Gas Generators and Bipolar Ionization.

ABC T&I donated an Indoor Ozone Disinfector to the Public Library, Colombo with the Ozone Gas Generator, to combat the Covid 19 situation, in the presences of the Mayor of Colombo, Ms. Rosie Senanayaka by Mr. Amalraj Jayaseelan, Director / CEO of ABC Trade & Investments.

The Ozone Gas Generator is the best available method to completely disinfect an unoccupied closed room and content inside it, within a short period of time. Ozone is a well-known powerful oxidizer, which could kill microorganisms effectively. It penetrates every corner of the room, thus disinfecting the entire room effectively. Ozone readily converts into oxygen, leaving no harmful residual after disinfection and is considered as an environmental friendly disinfectant.

Bipolar Ionization is another proven technology introduced by AQUA SCENCE for continuous disinfection to improve indoor air quality in the presence of humans. Bipolar Ionization is recommended solution for public gathering, office environment, hospitals, Hotels, malls and restaurants, ABC T&I represents reputed companies of Japan, Israel and the USA as solution providers for Sri Lanka and Maldives.

ABC Trade & Investments (Pvt) Ltd., is a diversified company with focused business activities in ICT solutions, Healthcare, Water Treatment, Printing, Consumer Electronics, Air & Ventilation Engineering, IDEA as Corporate Gifts & BTL Advertising. ABC operates with specialized business units (SBU) or individual companies within the group with a team of over 100+ trained and experienced professionals.