---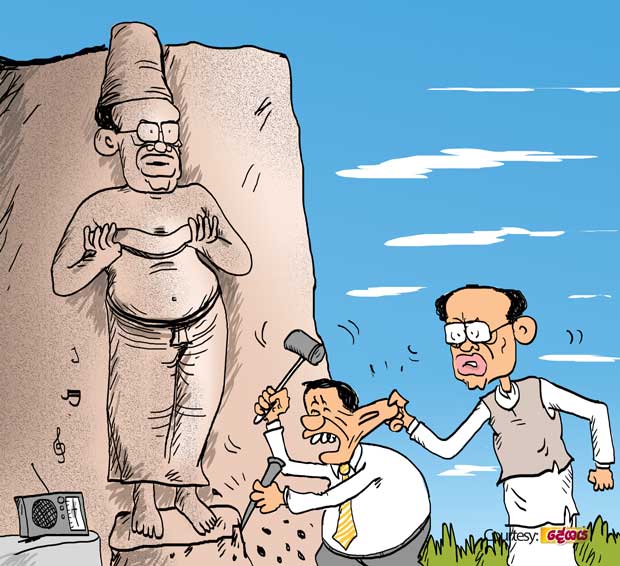 People had the occasion to watch over the TV a series of programmes and ceremonies organized to mark the first anniversary of the new Big Boss' inauguration.


Some political henchmen considered this event as an ideal occasion to win brownie points to better their positions. One of them composed a song hailing the new Big Boss as the King Maha Parakum of Pulatisipura. The state-owned TV, quite used to the game of praising the powers that be to high heavens, happily aired this song whenever they got the slightest excuse to do so. A certain young director of a State-owned electronic media institution was ahead of the others in the race to promote this song, they say.

Many people who supported the forces that brought the yahapalanaya government to power angrily reacted to the 'Maha Parakum song' soon after it was heard over the TV and the Radio. Some of them called the government high-ups and the electronic media heads to express their displeasure at the song. "Are you trying to promote the new boss as a king the way you did his predecessor?" they queried.

Meanwhile, the new big boss flew into a rage on hearing about the song being played to honour him on his inauguration anniversary and also about the uproar caused by it. He immediately ordered his aides to issue a media communique explaining that his government had nothing to do with the song that 'groomed' him as King Maha Parakum.

By the way, a massive bill submitted by the 'contractor' who put up the stage for the inauguration anniversary celebration at the Independence Square has created a stir in government political circles, they say.
---
Add comment

Comments will be edited (grammar, spelling and slang) and authorized at the discretion of Daily Mirror online. The website also has the right not to publish selected comments.

---