---
This young politico – a scion of a well-known political family also lent his voice to the anti-corruption cry ahead of the last big poll and quit the then government following in the footsteps of the Compassionate One and was eventually elevated to a Ministerial level.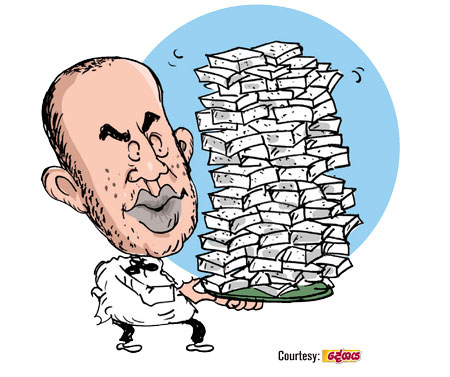 The father of this politico was once the virtual monarch of the area and his father- in-law is also a political heavyweight.

The Ministerial one was accorded a grand reception following his appointment to high office.

His office has just begun receiving the bills in respect of goods and services supplied in connection with this grand reception. The first bill received was the one for the milk rice supplied. And the accountants broke out in a sweat when they saw the amount billed, they say. It was well over Rs.100,000. After getting over the initial shock, the accountants had begun looking up the relevant financial regulations to check whether there is provision to settle such a high bill.
Meanwhile, the Ministerial one has pulled up the officials for delaying the payment, but the latter are in a funk about having anything to do with the bill.

Meanwhile, the construction work on a new office for the Ministerial one estimated to cost a massive amount is already underway. People will have to pray for divine intervention if this is the kind of yahapalanaya in practice elsewhere too under this regime, say the employees.