---
The return of the once powerful sibling who helmed the economic affairs has reportedly sent the former Ministerial Ones into a flutter.



According to reports, the former s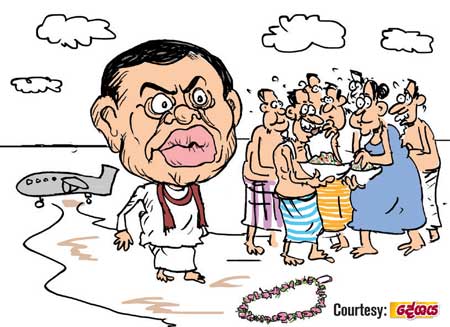 trongman's cabal was more upset over this event than others. Having learnt that moves were underway to accord a hero's welcome to the sibling, they decided to use a ploy to prevent the Blue crowds from Gampaha attending the KIA. And they hurriedly organized a Blue party confab and a grand luncheon for Blue activists in Gampaha to coincide with the much publicized arrival of the sibling. Even the former strongman was invited to this event in Gampaha.

They succeeded in taking the shine off the welcome to the sibling organized by his supporters. There were only two Diyawanna members at the KIA to receive the virtual second-in-command of the previous regime. And the crowd was not as large as expected.

The cabal played the spoilsport with a view to sending an important signal to the once powerful sibling, they say. These guys had found a convenient whipping boy in the sibling. They want to blame the sibling for all the sins of the previous regime. They fear that their plans will go haywire, if he succeeds in getting his name cleared by any chance, a Blue veteran said.