---
Moves are afoot to form a powerful political troika comprising the former Madam, the deposed Big Boss and the new Big Boss with a view to leading the Blues to an easy victory at the general elections round the corner.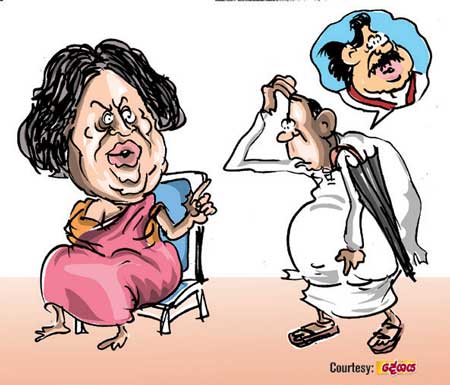 A small group of Blue Diyawanna members harbouring fears about their political future is backing this move launched by a motley band of politicos who look on the deposed Big Boss as their saviour.

However, this troika concept has run into a snag at its very outset with the former Madam putting her foot down that she would have nothing to do with any affair where the deposed Big Boss is involved in any way.

The troika advocates were not prepared to take 'no' for an answer from the former Madam. They decided to use their persuasive powers to the maximum possible to win the former Madam's consent. So a select group of emissaries called on her at her residence.

The former Madam quietly listened to all their arguments and supplications and opened up when they eagerly waited for her response. "I spent ten years confined to home giving a wide berth to politics. Ask your Boss to take a rest for at least five years before making a bid to win back his lost glory." Her response carried an unmistakable tone of finality.