---
The loyalists of the former madam the other day organized a special Pooja at the Sri Dalada Maligawa at 9. 30 in the morning to mark her 70th birthday.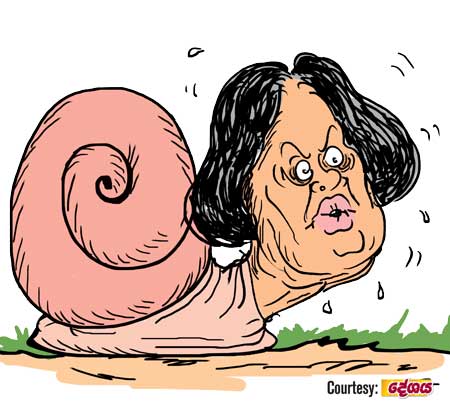 Everything was cut and dry for the planned Pooja; all invitees and Nilames were eagerly waiting for the arrival of the birthday girl. But she failed to turn up for the Pooja. Highly disappointed, the participants left the Maligawa one by one.

However, the madam did arrive for the Pooja, four hours late. Of the large crowd that had gathered by 9.30 in the morning, only about 50 were there cooling their heels at the Maligawa precincts to welcome the madam in case she showed up.

Now that the scheduled time for the Pooja had long lapsed, the madam had to be content with a simple religious ceremony at the Maligawa.

They say the madam had added insult to injury by declining an invitation to a sumptuous lunch arranged by the organizers and well-wishers at a leading hotel in the hills.