---
Doctor Vermin – self-styled Avatar of King Dutugemunu strode the political scene like a Colossus when he was once a close confidant and a favourite of the deposed Big Boss. However, the doctor fell from his Master's grace when the Master himself was about to fall from power. And soon after the Master was deposed, he gathered enough courage to make serious allegations against the members of the former royal family.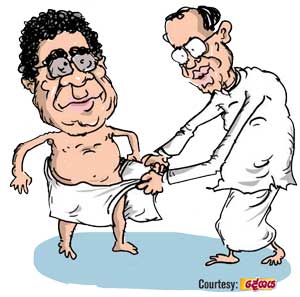 Incidentally, Doctor Vermin and his ilk in the previous regime were the butt of acid criticism by most main speakers at the propaganda rallies held in support of the Compassionate One who was in the fray as the common opposition candidate. Therefore, many people thought that Gemunu Avatar was about to end up in the political dust bin. However, according to a latest report, Vermin has bounced back into political centre-stage with the necessary clout to continue with his usual shenanigans. The new Big Boss has nominated him to the powerful Central Committee of the party! There is yet another surprise! The heroin kingpin from Negombo who wrangled with Ranja too has got a similar appointment from the benevolent new Big Boss, they say.

These two appointments have a set a poser in particular to the loyalists of the deposed Big Boss who think there is more to it than meets the eye.