---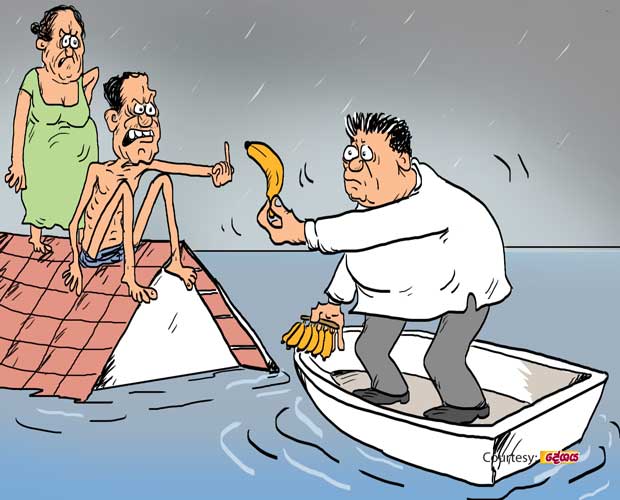 There were many politicos who tried to exploit the flood situation to gain political mileage. Here's a story about such a worthy hailing from the Colombo district.

Kaduwela was one of the worst flood-hit parts in the district. A dandy deputy cruising in the area with a group of supporters distributing flood relief was on his way to Ranala when he felt an urge to distribute some items with his own hands. So he got his boat beached at a congenial spot at an elevated highland for this purpose. On hearing that the deputy had arrived by boat, flood victims marooned on this highland rushed to the place where the boat had beached.

The deputy made a brief speech expressing his deep sympathies and he pulled out a bunch of ripe 'seeni' banana from a bag in the boat and began offering them one fruit each.

The flood victims who expected a relief pack each containing essential items for immediate use were highly disappointed and some of them were livid feeling that they were badly let down. They had waved off the bananas offered and made angry protests saying: "We were entertained to Biryani feeds when you were wooing our vote. Now that we are utterly helpless and are starving, you come and offer us a banana each…"

The deputy realizing that his oratorical skills were not good enough to pacify the crowd of flood victims growing more boisterous and hostile had the boat swung back and moved as fast as possible away
from them.