---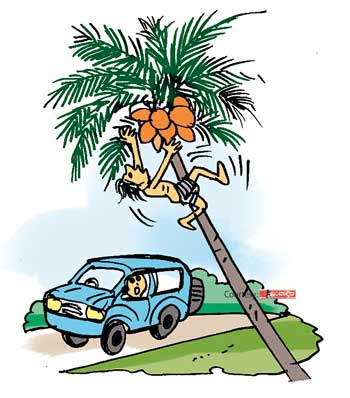 A villager who climbed a coconut tree to pluck a 'thambili' nut to quench the thirst of a fair purohita had fallen to his death.

It was a sweltering day. This fair purohita too had attended a ceremony held to mark the opening of a new office for the Death Donation Society in the area. They were all waiting for the arrival of the Chief Guest to start off the ceremony. Meanwhile, the fair purohita was cooling her heels inside her car.

The day being unusually hot, a villager who presumed that the fair purohita would welcome a cool 'thambili' drink, climbed a tree to pluck a nut or two. He had slipped down and the death had been instantaneous. And a funereal atmosphere had prevailed at the opening ceremony held later, they say.