---
A Diyawanna member who had reportedly escaped from being hauled before the FCID by making a timely political pole-vault has become the butt of much teasing by his colleagues at the council lobby and the library, they say.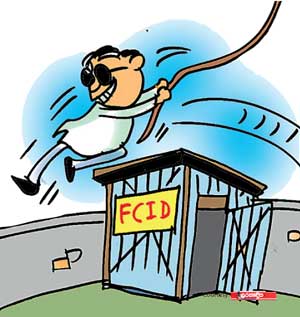 During the previous regime, this member held a high position in a statutory body which came under the purview of a Minister who happened to be the leader of a minor political party. However, he made a big fuss over a steel-related issue and switched his allegiance to a main political party.

His previous boss, the political party leader and a white-collar high-up of the statutory body in question are now languishing in remand jail on charges of abusing public property. Although this Diyawanna member was facing the same charges as those his onetime political boss is facing now, he has escaped from being put on trial thanks to the 'immunity' he had acquired by making the timely jump to the main political party, they say.