---
The piece of news that the cockerels led by the King Rooster are set to join the yahapalanaya ranks has ruffled a few feathers in the hill country.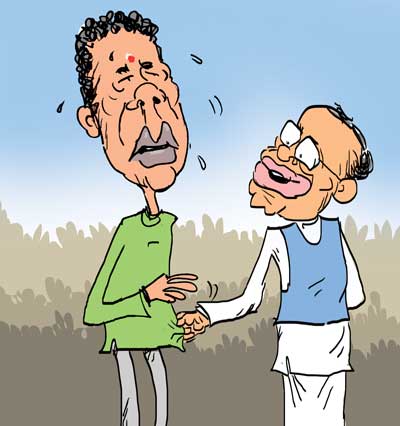 There were six members returned to Diyawanna from several political parties, which fought a bitter battle with the cockerel party at the last general poll. These members are highly agitated over the prospect of having to cohabit with the cockerels in case they join the yahapalanya.

So the leader of the anti-cockerel group the other day called on the Big Boss at his Fort office to lodge a formal protest against taking on board their archrivals.

"Sir, we were there in full strength to support you at your hour of need. Why do you want to take on board our rivals who turned against you?

When the Big Boss remained silent without committing himself, the anti-cockerel group leader had played his last trump: "If they come, Sir, we will go. This also means when you gain two, you will lose six!"

However, the Big Boss had not seemed to have taken this warning seriously either.

Meanwhile, what transpired during the talks between the Big Boss and the Anti-cockerel group leader became the subject of a discussion among several Betel leaf purohitas at the main office in Fort. One purohita said to be farther-sighted than others had analyzed the outcome of the talks thus: "The six members who threaten to quit are not our members or allies. They are members of the Green party virtually running this government."

One of the purohitas who listened to this analysis said: "That explains our Lokka's nonchalance about the howls of protest being raised by the hill country man."