---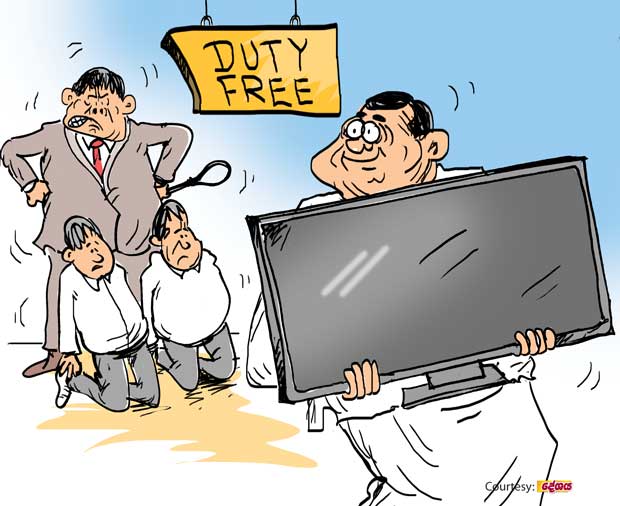 A deputy one in yahapalanaya hailing from the Gampaha district, on his return after a brief visit abroad bought a large-size TV set from a duty-free shop at the Katunayake airport.

As the deputy one, incidentally a prominent crusader against corruption, was back after a short sojourn abroad; his duty-free allowance was a meagre US$180. But the TV set had cost US$990. He had, however, faced no problem about getting Customs clearance because he walked out of the airport through the VIPs' exit with the TV set.

Back at home, the deputy one found to his chagrin that he could not operate the TV set due to some defects. He immediately got his private secretary to speak to the duty-free shop manager and the latter agreed to issue another TV set in place of the defective set.

The Deputy's aides had taken the TV set to the duty-free shop at the airport and were returning through the normal passage when the Customs officers challenged them. The deputy's aides explained that they were taking away a TV set exchanged for one already taken home by their boss.
Asked to produce the Customs clearance documents, they explained that the need to pay duty had not arisen. The Customs officers then told them that it did not matter to them whether their boss was a deputy or someone even higher, the tax due on the TV set purchased should be paid and had proceeded to slap a tax and a fine amounting to Rs.60,000 on the Deputy and a fine of Rs.20,000 on the shop that sold the set. The deputy's aides had told the Customs officers that they did not carry enough money to pay the tax plus the fine. A hot argument had ensued and finally the duty-free shop owner had agreed to pay the total amount of Rs.80,000 – tax payments plus fines-slapped on both.
The Customs had released the TV set on taxes and fines being paid by the duty-free shop owner.