---
A Group of Blue party Diyawanna members handed a letter to Number One the other day requesting him to come forward to contest the big poll round the corner. Almost all members in the group had signed this letter. But two or three members had avoided becoming signatories to it.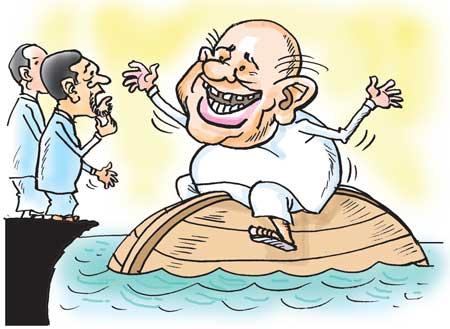 Practically all Blue party members were present on the occasion where the letter was formally handed to Number One by the most senior member of the group.

However, a few days later, some Blue party Diyawanna members who had second thoughts about signing the letter asked those who took the initiative to write it whether they had not placed themselves in a contradictory position by making the request to Number One. They said: "We are getting invitations from Pohottuwa. We are having a dialogue with the former boss too. Despite these developments, we have now asked our boss to enter the fray! Now what should we do?"

It was a roly-poly party senior who answered the query raised by the group members. Lowering his voice to a conspiratorial tone he said: "Bottuwa peralunoth peraluna pita Hondai kiyamu! (if the boat capsized, let us say the underside is okay!) True, we handed the letter! After all, we can withdraw it too if need be!"

After saying so, he laughed loud as if he was enjoying the humour of the situation.

However, his juniors who listened to him continued to wear a grim and sober look, they say.