---
An old couple were leading a quiet comfortable life in peace in a rambling house on a 129 perch- plot at a street in a bustling area in the city when they were compelled to take in a boarder. The couple had several domestic aides to attend on them hand and foot.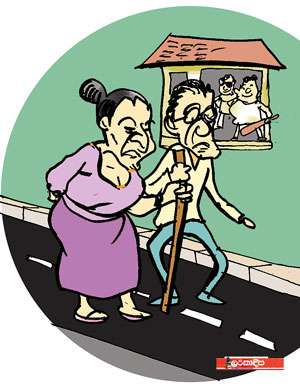 However, the quiet life the couple was leading in their sunset years was rudely disrupted when more 'boarders' one by one began forcibly occupying the house. And the worst was to come when their servants disappeared and the 'boarders' took charge of the entire house forcing the couple into the annexe.

It had come to light later that the goons, who had taken over the house displacing the old couple had been sent by the son-in-law of a powerful political authority, as part of a devious plan to acquire the property by illegal means.

The couple has now retained a senior counsel in a bid to evict the intruders.

The politico, the property grabber's father- in- law, is a purohita in the yahapalanaya, who once stood out as a prominent advocate of national reconciliation, they say.