---
A top Ministry mandarin, on being requested to approve the release of funds to replace two damaged tyres of the Minister's official vehicle has asked his subordinates to claim the cost from the insurance company concerned.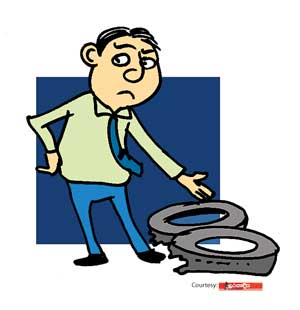 The two tyres got badly damaged when the Minister's official car bound for Hambantota was speeding on the Southern highway and the driver had skillfully averted a possible accident that could have caused fatalities and readed the vehicle a complrete wreck.

When a responsible officer submitted the file on the subject to the high-up seeking his approval to purchase two new tyres, the latter sent back the file with a minute instructing that an insurance claim be made to replace the damaged tyres.

Ministry employees have expressed surprise that this high-up despite his 25-year experience as a CAS officer is unaware that insurance cover is not available for vehicle tyres.