---
This onetime politico is now an inmate of a state-run lodge and he has been enjoying the comforts of a star class hospital room for the past three years.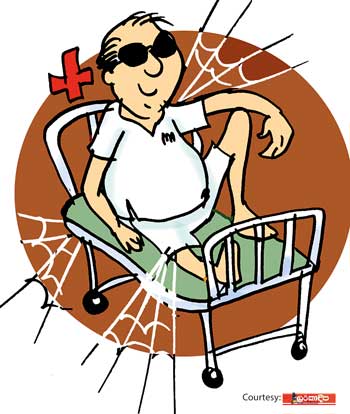 On receiving complaints about the favoured treatment accorded to this particular inmate, high authorities had recently issued instructions that he be sent back to the cell set apart for him in the lodge.

However, the lucky inmate is reportedly continuing his stay in the hospital due to medical advice that he should be kept under a 24-hour observation of a physician.

Instructions issued by high authorities to send the inmate back to the lodge on a number of previous occasions too had failed to take effect due to the weight of medical advice in the way. Meanwhile, the lodge sources say that a powerful unseen hand is behind this inmate's continued stay in the hospital.