---
The former strongman along with a political buddy was walking up the corridor at the august assembly the other day when a Northern alliance politico who recently lambasted him in the council came running behind him and asked, "Sir, can I have a word with you!"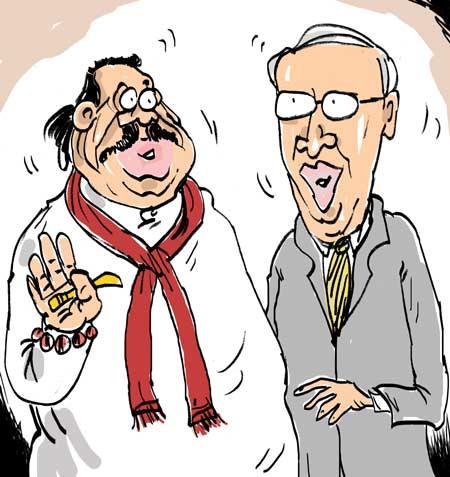 The former strongman who looked back and asked with a typical winning smile: "What can I do, Thiran?"

"I want you to do us a favour, Sir!" said Thiran.

"A favour from me…? What kind of favour can an unimportant person like me, can do for important people like you…?" the former strongman jokingly queried.

"Sir, our chief is still having in his custody the official residence and the official vehicles he got as the Opposition Leader...His private residence is located on the top floor of a multi-story apartment building. There is no elevator installed at this apartment building and our chief finds it difficult to climb up and down the stairs…"
"So, what kind of help do you need from me…?" the former strongman asked.

"Our chief, Sir, had received a letter from the authorities the other day asking him to vacate the official residence which you are now entitled to without further delay adding that failing to do so would lead to legal action taken against him…Can't you give us some time…?"

"O! Let it not be a problem for him… Your chief is a very senior member in the council… Let him continue to use the official residence and the two new limousines if he wants. There is no objection on my part whatsoever!"

"Thank you very much, Sir!" said Thiran.

"You are welcome, Thiran! I am only conceding him his due as one of our seniors!" replied the former strongman.

Later, the government took action to approve a Cabinet paper okaying the transfer of the official residence and the two official vehicles to the former opposition leader, they say.