---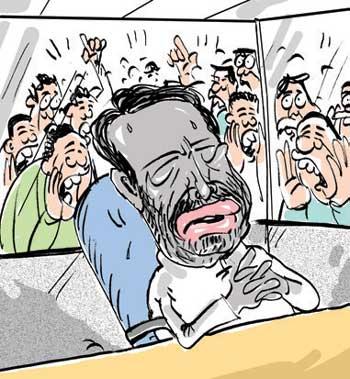 The Number One who triggered an unprecedented crisis in the country by suddenly taking up an aggressive posture later refused to appoint Blues who-turned Green to high political office.

When Number One put his foot down on the matter, the Green leader offered monitoring jobs as a sop to all the turncoats.

The Diyawanna politico of 'Appochchi Mala' fame from Uva was among the Blue turncoats who had to be satisfied with a monitoring job. No one had taken any notice of the man when had called at the Ministry to assume duties in the monitoring job despite he had once ruled the roost there as the big boss.

Green party's Rajarata Harry, now the big boss of the Ministry, had not been present when he called over to assume duties. Finding not even a desk to sit at, let alone a separate office, the Uva politico had boldly walked into the office of the Rajarata purohita and sat at his table.

The news that the Blue turned Green who had come for the monitoring job was occupying the big boss' seat had spread like wildfire across the Ministry. And the Green party's TU activists who had mobbed the purohita's office had demanded, "Who the hell are you to occupy our boss' office?" When the Uva man told them that it was none of their business to decide where he should sit, the crowd had turned hostile and had started booing at him.

The Uva politico, finding 'coming colour no good' had left the place in a hurry, they say.