---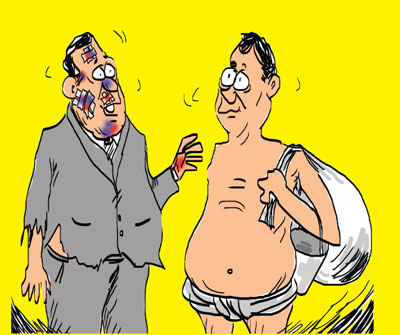 A top team member in yahapalanaya and a former top team member had got embroiled in a heated exchange at the council canteen the other day.

The top team member handling local government affairs was still smarting from a sense of guilt over a gaffe he made at a media briefing the previous day, when the former political bigwig who functioned as the media spokesman of his regime walked up to him and addressed him. "How come you made yourself such a sorry spectacle at the media briefing yesterday?"

The political authority handling local government affairs who turned livid with fury immediately lashed out at his tormentor. "In your case, you were a good laundryman! Maybe, it happened like that because I am not so clever at laundering as you were!"

The media boss of the previous regime had immediately faded from the scene.