---
The actor-turned Diyawanna politico is said to be a busy student these days.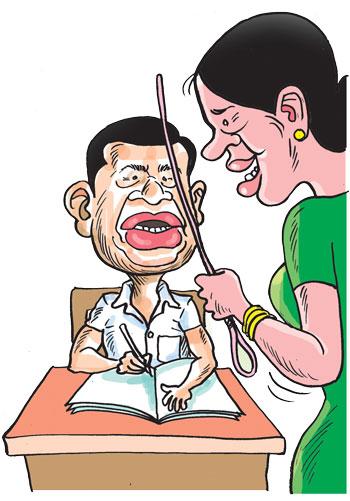 He is said to be burning night oil studying for the A-level exam. The subjects he is to sit for are Mass Media, Political Science and Christianity.

He is learning Mass Media and Political Science from two leading teachers, while studying Roman Catholicism under the guidance of the daughter of a popular comedian.

The politico's decision to resume academic studies at this late age had become both a surprise and a puzzle to many of his friends and colleagues. He had confided in a few inquisitive friends the reason why he had decided to resume studies: He wants to face the 28 court cases pending against him in the capacity of a full-fledged lawyer!

He also has said that though he had been critical of the legal community, he wants to be a lawyer to help poor people involved in litigation. He wants to sit the AL exam because he cannot sit for the Law College entrance exam without the AL qualification.

The actor-turned politico's teachers say that the pupil is keen on his studies. Many a well-wisher wishes him success in his new effort!