---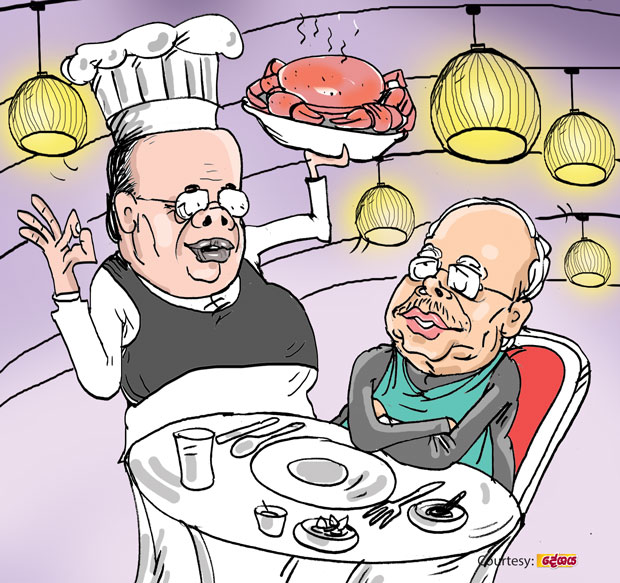 A VVIP from the land of Malays, who arrived here on an official visit recently checked in to a high-end hotel facing the Galle Face Green for his brief stay.

Off his day's schedule, the distinguished visitor was chatting to Muza, our envoy now serving in his country, when he suddenly expressed his desire to savor some typical local dishes for a change.
Being a former first citizen of the capital, Muza knew all about each and every eatery in the city like the backyard of his own house and it struck him that the restaurant housed in the old Dutch Hospital building well known for its crab meat dish was the ideal place where he should take the visitor for dinner.

Muza went into action forthwith. He placed an order for a sumptuous dinner with prawn and crab meat as special dishes.

Later the Malay leader enjoyed the prawn and crab dishes so much that he asked Muza to have the same meal sent to his wife back at the hotel.

The crab meat dinner story did not end there. The Malay leader who called on our Number Two at his official residence the following day made it a point to tell his host how much he enjoyed the delicious crab meat dish the previous night. He also asked our Number One to look into the possibility of opening a branch of this seafood restaurant in the capital of his country.

The Malay leader reportedly told our Number Two: "Crab meat is a popular dish in our country too. But the crabs available there are very small compared to the ones served in your country. We welcome both crab and prawn imports from your country – at least 10 percent of your annual harvest."
They also spoke in glowing terms about our star cricketers Mahela and Sanga who took the initiative to open this restaurant.

The crab meat dinner hosted to the Malay leader by Muza has already made such big news it is expected to lead to an increase in tourist arrivals from that country, they say.