---
Ranjan's latest move to expose Diyawanna members hooked on cocaine has set a poser to some upcountry estate sector politicos.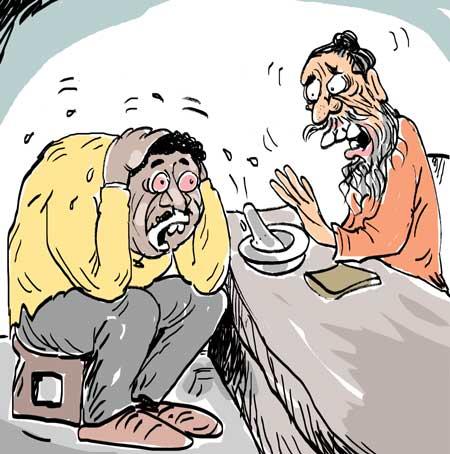 For example, one prominent estate sector political stalwart had in sheer desperation rushed to India to consult a leading practitioner of Siddhayurveda medicine who has earned a reputation for cleansing one's system of the effects of cocaine through medication.

He had told the reputed physician, "Please rid my system of all traces of cocaine at any price you name so that no test whatsoever will detect a trace of the stuff in my body!"

The Siddhayurveda practitioner, who examined the politico had told him: "I can cleanse your blood of the drug within two to three days. But it would take at three months to remove the stuff present in your hair!"

The physician's pronouncement had dealt a great blow to the politico who had planned to undergo a cocaine detection test with much fanfare and proclaim his innocence soon after the return to the country.

A party faithful had in the meantime aggravated his predicament by issuing a media communique saying:

"Our party leader now on an important visit to India will return home in a day or two and he had decided to subject himself to a cocaine detection test soon after his arrival!"

The politico who had to return home frustrated had gone livid when he heard about the media communique issued by his party faithful.

So, the politico had sent for him and given him a thrashing followed by a tongue-lashing.

The party faithful had disappeared from the scene soon after, but not before confiding in a few buddies the reason for his getting a beating from the boss, they say.