---
There is a Buddhist shrine in a town close to Colombo where a Bo sapling from Buddha Gaya was planted when the Madam was functioning as the Head of State.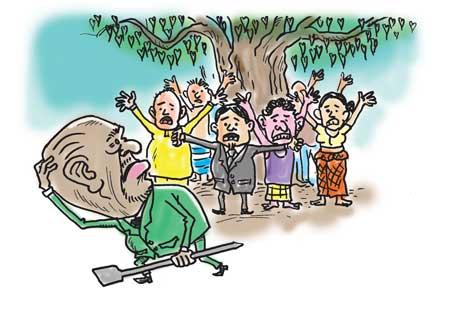 Most residents of this town are non-Buddhists. However, religious harmony has always prevailed here.

By the way, a prominent figure, a buddy of a high political authority had recently instructed the white-collar high-up at the district level to take immediate action to remove the Bo plant and the shrine at the venue as they were an obstacle to a proposed development programme.

The news that preparations were underway to fell the Bo tree and demolish the shrine spread soon and the people in the area made representations to the authorities against the move.
However, the district white-collar high-up had put his foot down that they had to remove them if they were to go ahead with the proposed development plan.

Meanwhile, several Diyawanna members from the district who called on Number Two explained to him that the proposed move could jeopardize the religious harmony prevailing in the area.

Number Two lost no time in reprimanding the district white-collar high-up for creating an unnecessary problem and the prominent figure behind the move had immediately faded from the scene, they say.