---
There is a purohita in yahapalanaya who does not attend his office these days.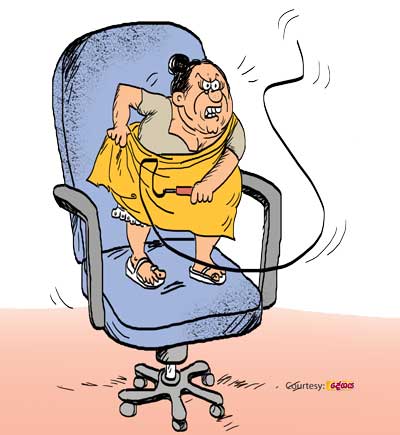 In the absence of the purohita, a close fair relative of the purohita has taken over the business of running the office. And no responsibility in respect of any of the functions assigned to this office has been delegated to the deputy purohita, they say.

The fair one now occupying the purohita's chair is said to be running the affairs with an iron hand and has already made a veritable mess of it as a result. While exercising her powers indiscriminately like the proverbial monkey armed with the barber's razor blade, she has gone to the extent of ordering the withdrawal of the monthly fuel allowance being paid to the secretary. "She is a bull, sorry a heifer, in a China shop," an employee said.

The working of the entire office may grind to a halt soon, if this fair one continues to helm the administrative machinery, they say.