---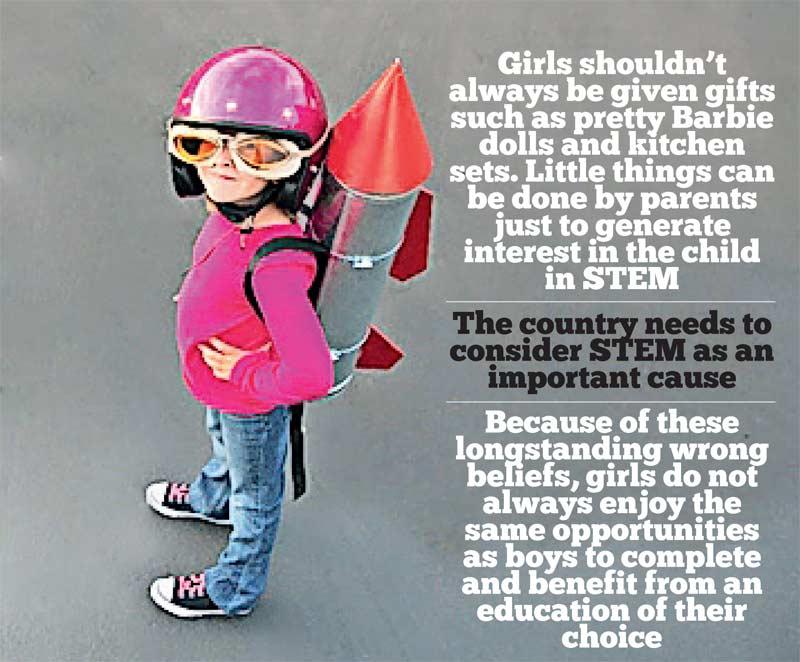 The landmark Declaration, adopted by the United Nations General Assembly (UNGA) on December 10, 1948, reaffirms that, "All human beings are born free and equal in dignity and rights and that everyone is entitled to all the rights and freedoms set forth in this Declaration, without distinction of any kind, such as race, colour, sex, language, religion, birth or other status". Then, why are there fewer women than men in science?

Marine Biologist Chathurika Munasinghe
---
Women and girls who represent half of the world's population are under-represented in Science, Technology, Engineering and Mathematics (STEM) careers. According to the UNESCO report Cracking the Code: Girls' and women's education in STEM globally is only 35% of STEM students while in higher education globally are women, and differences are observed within STEM disciplines. For example, only 3% of female students in higher education choose information and communication technologies (ICT) studies.
In the Sri Lankan context, there is quite good news. According to the University Grants Commission (UGC), females accounted for nearly half – or 49% – of undergraduate enrollments in STEM subjects in local universities in 2017, when compared with the global figure of 35%. But are young Sri Lankan women not selecting the fields with a 92-per cent employment rate – in the STEM fields?
Today marks the 6th International Day of Women and Girls in Science. Issuing a media release, UN WOMEN emphasized the significant roles played by Sri Lankan women in science before and after the COVID-19 pandemic. It said in the journey towards response and recovery, Sri Lankan female researchers have been among those pioneering the COVID-19 vaccines. The UN also stressed that more should be invested in women and girls in science. This year's celebration will focus on the theme, "Women Scientists at the forefront of the fight against COVID-19," and will gather together experts working in fields related to the pandemic from diverse parts of the world.
We spoke to Marine Biologist Chathurika Munasinghe from the University of Peradeniya and she shared her views as to why Sri Lankan girls and women are holding themselves back from careers and education in STEM fields and what can be done to encourage them.
Q: Why do you think Sri Lankan men have vastly outnumbered women majoring in STEM fields?
Gender disparity! Unfortunately, the gender gaps are high in STEM fields like many other fields in our country. Another key problem is that socio-cultural norms that systematically take the girls and women away from science and math throughout their educations, limiting their training and options to go into these fields.
Many Sri Lankans have gender stereotypes that continue to hold women back. People tend to view these fields as masculine. These stereotypes should be overcome. Women and girls can take on any career.
Because of these longstanding wrong beliefs, girls do not always enjoy the same opportunities as boys to complete and benefit from an education of their choice. Too many girls are pushed to do home science or typical feminine subjects.
Q: What can parents do and how soon can they start introducing those ideas to their children?
Sometimes parents squash students' interests because they are afraid of risks or hesitant to go beyond typical social norms. Parents don't have to ask the kids to select a certain path. What they can do is enabling the children to know all the education and career opportunities.
One of the reasons that girls do not choose careers in STEM is because they often lack the knowledge about what they entail. For young girls to consider a career in STEM, they first need to pursue those subjects.
I am sorry to say that many teachers and parents often underestimate girls' abilities in these subject areas. I think this education has to begin at home. Let your girls make things, build things, and do small experiments at home. Girls shouldn't always be given gifts such as pretty Barbie dolls and kitchen sets. Little things can be done by parents just to generate interest in the child in that subject. When they grow up, if they still like those subjects, they will choose their path. If not, they will pursue what they love to do.
Q: What inspired you to get into STEM field?
I was lucky. I had a family that supported me. I always just followed the thing that I loved. I think that I was always fascinated by understanding the world around me a bit more. I have loved the ocean from a young age. You protect what you love, so it is no wonder that I wanted to become a marine biologist.
When I did diving, I witnessed how coral reefs in Sri Lankan seas have been damaged over the past few years due to human activities. That is when I told myself that I should do something to protect coral reefs and marine life now with the knowledge I have collected from my education.
Q: What is the role that the government can play to fill these gaps?
We currently live in a world where people tend to find solutions to all problems from the point of view of science and technology. By having lesser or no women in those areas means half of the world's talent is excluded. Foremost, I believe the government can call for changes to the school education system to provide more learning opportunities specialized for young girls.
The country needs to consider STEM as an important cause. Women's participation in STEM fields can bring economic progress for them and their families. Their contribution can also stimulate Sri Lanka's economy. As I said, changes to school education are necessary to build interest in young girls for these subjects and bring out their talent and potential. It can be done through awareness programmes on the importance of learning these subjects through workshops and other extra-curricular activities.
These actions should be able to build confidence in girls to succeed in these subject areas. When it comes to career choices, I think improvements should be made in job hiring, retention and promotion pathways, and more inclusive work cultures.
There is still a long way to go to achieve these goals. But, it is vital for those who are in leadership and decision-making at all levels to create more opportunities. My final message to young girls out there is that it is up to you to break your own barriers, to overcome under-representation in any field you love, and to work harder. On the other hand, I would like to mention that I had wonderful mentors who supported and encouraged me over the years. Without them, I would not be where I am today.