---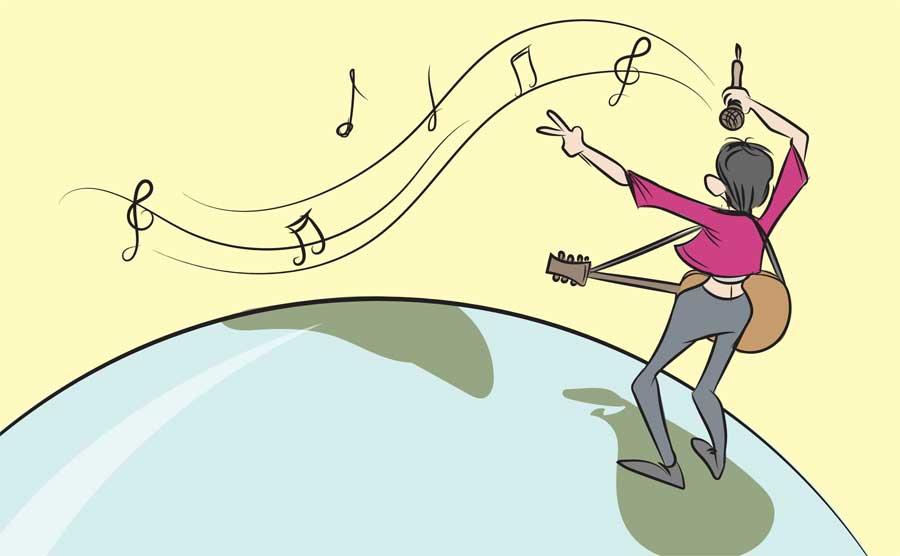 When little Yohani De Silva (28) put Sri Lanka on the world map of music there were mixed reactions back in her motherland. That's Sri Lanka! She was praised by the majority, but there were others who couldn't stomach the success she was enjoying. Another section of the society couldn't take it because she was getting most of her attention in India; a nation which spends no time hesitating when it comes to grabbing opportunity. 

Young Yohani has many skills. She is an accounting professional, a song writer, rapper, singer and businesswoman. But above all she has the ability to hide her emotions when the tide is against her. She can still produce a smile when she is not so happy. Going down memory lane she was even ridiculed at a Sri Lankan television show, about an year ago, by a tabla expert, one of the hosts of the show, who made her look very small; in terms of potential to grow. 

Today she has gone beyond being 'work-in-progress' and shaped her career as an artiste who can slot in even in India's lucrative Hindi movie industry. She has already done that following her two sensational music shows in India where she sang her cover song 'Manike Mage Hithe' to an appreciative audience. Now she has been signed up to give her voice to the promotional song penned for the movie Shiddat.

Yohani in India raises concerns from many angles. One is that she is the daughter of a military man-Brig Prasanna De Silva- who was prominently involved in the civil war where Tamil Tiger Rebels were squashed by the Sri Lanka security forces personnel. But when in India there were no animosities against her; just overwhelming support. Even our cricketing great Muralitharan had a setback in India when the main actor chosen for a biopic- which was to be made to celebrate his accomplished cricket career- decided to withdraw from the film for safety reasons. 
The other reason is that Sri Lanka's present aggressive politicians wouldn't watch passively when one of their islanders-mostly educated and nurtured here-is grabbed by an outside nation. 

However Yohani has given all indications that she would do her part for her country. 
She had told media institutes during interviews that the Indian audience had wanted more English songs, but she had underscored that she and her crew were from Sri Lanka and would be singing more of Sinhalese songs. According to the tourism sector at home its authorities plan to use her name and skills to promote the 
hospitality industry.   

Sri Lanka needs to have a solid plan to be associated with Yohani. To put it frankly she has grown from a 'new kid on the block' to an overnight sensation. The next question posed by people in the music industry is whether she can handle the massive success she has achieved. This is not like some kid who has won a lottery and does not know what to do with all the money. Yohani is educated, talletented, has singing skills and above anything else knows how not to make enemies. We hope she can see clearly 'who' is where in these massive crowds that flocks around her now. Behind that cute face, infectious smile and pint-sized figure is something that can grow into a massive phenomenal thing; which, like in a blockbuster movie, can start moving from the sea towards the land and make everyone take notice. 

According to local newspaper reports she is already invited to sing a song made to promote Sri Lanka tourism at an upcoming event titled 'World Works for 2020', scheduled to be held soon in Dubai. 
When Yohani sang in India unknown Sri Lankans flocked to the venue ahead of the show and asked her what they could do for her. Has 'Sri Lanka' asked her what it could do for her?