---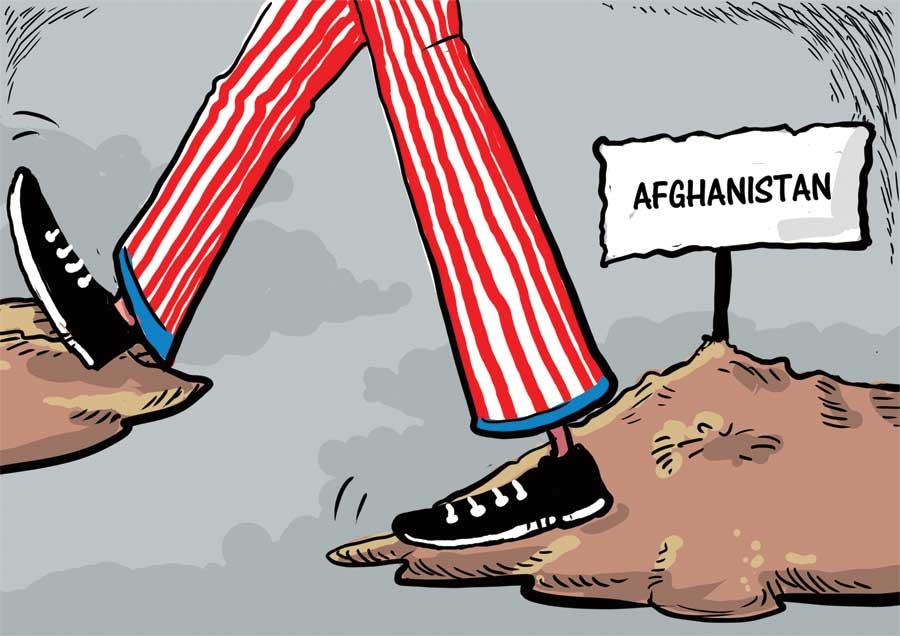 Twenty years after the US commenced its military operations in Afghanistan in response to the terrorist attacks carried out by AL-Qaeda on September 11, 2001, US President Joe Biden announced - in a departure from policies embraced by his predecessors he was unconditionally ordering all US military forces out of Afghanistan by September 11, 2021.

The 20th anniversary of the 9/11 terrorist attacks which propelled the US invasion of Afghanistan.
According to the UK-based 'Save the Children' report of November 23, 2020, between 2005 and 2019, at least 26,025 children were killed or maimed in Afghanistan – an average of five children every single day over the past 14 years. This has been but part the legacy bestowed by the US and its western allied occupation forces to the people of Afghanistan.

The report adds:
nBetween 2017 and 2019, there have been more than 300 attacks on schools, injuring or killing at least 410 students and teachers
3.7 million children - almost half of all primary school-aged children are out of school
93%t of late primary school-aged children are not proficient in reading
60% of school-aged children missing out on their education are girls
Spending on education is presently 78% less than the average for the South Asia region
14 million people, nearly 50% of the country's population, need humanitarian assistance
More than 7 million children are at risk of hunger
3 million children under the age of five suffer from under-nutrition...

As it did in Vietnam in May 1975, the US is once again leaving yet another Asian country amid a trail of death and destruction, and with its tail between its legs - beaten and bloodied. The BBC calculates over 60,000 members of the Afghan security forces were also killed and nearly twice that many civilians lost their lives to the US-West European 20-year 'adventure' in Afghanistan.

So what did the Americans and their partners-in-crime achieve in Afghanistan? Right from the beginning of the US-European Afghan adventure, the enemy was unclear, foreign and mysterious. It was not an identifiable entity as Nazi Germany's armed aggression during World War II.

Attacking Al Qaeda was seen as a just cause, the attempts to overthrow the Taliban regime and wage war against a non-governmental body were questionable. What was clear was the US wanted revenge to save face because it had been attacked in its (US) home, by an organisation it helped build, create and arm. Therefore non-violent means were not enough. But it had to justify its new war and so the term 'War on Terror' came into being. But how far have these aims been accomplished?

A claimed purpose of US policy in Afghanistan was to defend and protect women's rights. But as in any war, women are one of the worst affected groups Human Rights Watch quoting the UN 'Civilian Casualty Report' of 2017, states many more women are being killed and injured in Afghanistan today than a year ago. They are casualties of an intensifying armed conflict that is also claiming more children as victims every year.
The primary aim of the US invasion of Afghanistan was to eliminate the Al-Qaeda. While it has killed of a number of its main operatives and the Head of Al-Qaeda itself - Osama bin Laden - the Al-Qaeda is very much alive and operational. Worse still the invasion has seen the rise of a more violent terrorist group -the Islamic State (IS)- whose atrocities pale Al-Qaeda's worst offences. In addition, the IS and its affiliates are today more widespread worldwide than Al-Qaeda ever was.

In short - as Scott Ritter, a former US Marine Corps intelligence officer and author points out, the 20-year conflict in Afghanistan accomplished for the US, nothing other than killing more than 2,000 Americans, wasting trillions of dollars of the American treasury, and slaughtering hundreds of thousands of Afghans while leaving their country a little more than a tortured wasteland.