---
Worldwide, gender equality movements have made vast progress but still there is a gender gap or discrimination, often in third world countries. Though women have made much progress in their battle for equality and social justice, the girl child's plight is still a cause for concern in most countries. Even at the time of birth we often hear exclamations of joy that it is a boy child and not so much happiness when it is a girl child. In some countries this attitude is widely seen because when a girl child grows up, the parents are likely to have dowry problems and related issues. That is why one of India's greatest philosophers Rabindranath Tagore has lamented that in India marriage is often what he calls "glorified prostitution" because in most cases the male partner or the parents seek something like three million rupees for a doctor, two million or more for engineers, accountants or lawyers and a little less for other professionals. This happens in Sri Lanka also though all our religions teach that in marriage, selfless, sacrificial and ever forgiving love is priceless.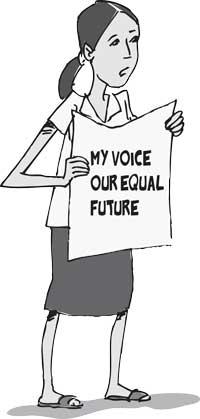 Tomorrow, Sri Lanka will co-operate with the United Nations in celebrating the International Day of the Girl Child. This year's theme is, "My voice,our equal future". In a statement the UN says progress for adolescent girls has not kept pace with the realities they face today and COVID-19 has reinforced many of these gaps. The UN has called on all countries to make use of this opportunity to be inspired by what adolescent girls see as the change they want, the solutions they are demanding across the globe.

This year, we mark 25 years since the adoption of the Beijing declaration and platform for action – the global agenda for advancing the rights and empowerment of women and girls everywhere. Generation equality was also launched in early this year, as a multi-partner campaign and movement for bold action on gender equality. A clear narrative and actions related to the needs and opportunities of adolescent girls and their solutions is central to the generation equality mission.

Worldwide, as adolescent girls assert their power as change-makers, the International Day of the Girl Child 2020 will focus on their demands to live free from gender-based violence, harmful practices, HIV and AIDS; learn new skills towards the future they choose and lead as a generation of activists accelerating social change.

The UN has outlined ways to get involved in promoting the rights of the girl child. We could do this by sharing stories of inspiring adolescent girls or girl-led organisations which are developing innovative solutions or leading efforts towards positive social change, including gender equality, in their communities and nations. This will amplify their leadership actions and inspire others. We are also called upon to participate in a youth-led digital activation launching on the International Day of the Girl Child. Across the world, young people are developing a digital activism campaign, aiming to raise the diversity of girls' voices and their vision for a re-imagined future.

The UN women's movement identifies how Covid-19 impacts women and girls. A profound shock to our societies and economies, the COVID-19 pandemic underscores society's reliance on women both on the front line and at home while simultaneously exposing structural inequalities across every sphere, from health to the economy, security to social protection. In times of crisis, when resources are strained and institutional capacity is limited, women and girls face disproportionate impacts with far-reaching consequences that are only further amplified in contexts of fragility, conflict, and emergencies. Hard-fought gains for women's rights are also under threat. Responding to the pandemic is not just about rectifying long-standing inequalities, but also about building a resilient world in the interest of everyone with women at the centre of recovery.

Whatever the negative aspects, the girl child eventually becomes the mother in a family and we know what an important role the mother plays in moulding loving, caring and obedient children who could play a vital role in the community, society and country.