---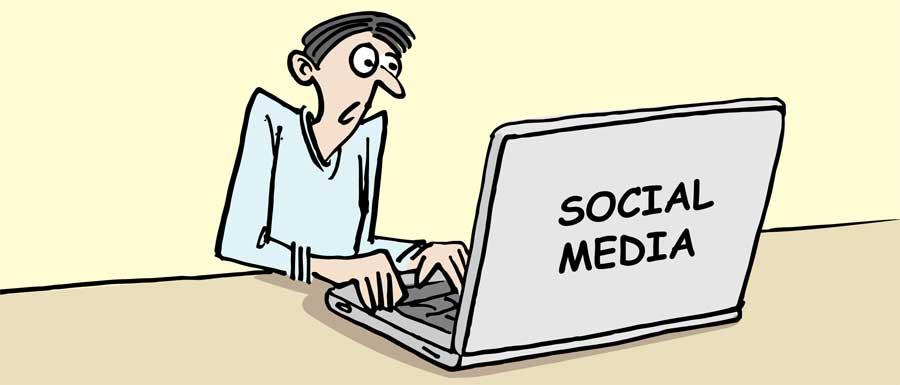 The freedom of speech and communication of ideas without hindrance is one of the pillars on which a democratic society is founded and upheld. It is in fact an indispensable and integral part of a democratic society.
Diverse means of communication have been with us through the ages and today's digital technology is the most recent form of evolution of ancient forms of social communication.

The Amero-Indians (sometimes referred to as Red Indians) used smoke signals to warn of impending danger as well as to pass on other information to their tribes or people. In our own country tom-toms were used to pass on information or as a means to communicate between different groups. In this country we also had what was known as the 'kele pattara' - a means of anonymously spreading salacious or scandalous stories.
In 1987, the direct precursor to today's internet came into being, when the National Science Foundation launched a more robust, nationwide digital network known as the NSFNET. A decade later, in 1997, the first true social media platform was launched.

Social media today, is recognized as being the interactive digitally-mediated technology that facilitates the creation and sharing/exchange of information, ideas, career interests, and other forms of expression via virtual communities and networks.

In fact, social media has today become the most powerful form of communication. It has become a means for passing on information and or raising awareness on diverse topics - ranging from the environment pollution, to climate change, as well as a means to track and control the spread of pandemics. Persons suffering under oppression have found it a useful tool to expose human rights abuses, crimes against humanity and war crimes.
Thanks to the digital and social media, today. Within minutes of heinous crimes being committed, they can be communicated and perpetrators of these deeds stand exposed to persecution in courts of law. This is the good and bright side of social media.

However, the use of audio clips and visual recordings often, without the permission of the subjects themselves, and on a number of occasions taken without the knowledge and unknown to the subjects, is unethical and bad, but sadly fast becoming part and parcel of the social media platform. The ugly side of social media platforms are when blatant untruths are held up as gospel truth leaving those trolled, with little or no way of defending themselves.
The really ugly side of social media has been the use of vulgar language and the targeting of young people with pornographic material and its use by paedophile networks to locate and abuse children.

The audio, visual and print media are to an extent, self-regulated and bound by particular codes of ethics and or standards. Sadly, social media today has as yet not set out codes of ethics or standards. While, freedom of speech and communication are considered pillars of any democratic society, this freedom cannot not give a particular individual or organization the right to abuse his/her neighbour.

Social media, unlike the print, audio and visual media is still relatively new and free of all shackles which bind the hands of other forms of media. It is therefore liable to make mistakes, as for instance presenting unverifiable 'facts' and reports, as is the tendency to act with impunity. This lack of self-regulation will make it easier for authoritarian regimes to use particular examples of abuse to crackdown on the right of freedom to speech itself.
The Guardian reports disinformation campaigns on social media have been cited in more than 70 countries, and doubled from 2017 to 2019. Ex-US President Donald Trump, who himself misused social media platforms is now calling for the regulation of giant social media platforms like Google, 'Whatsapp', 'Instgram' and 'Twitter'
In India, the government is calling for state regulation of social media for very different reasons. In our own country, different leaders at different times, offended at social media takedowns, have also spoken in the need for government to regulate them.

Perhaps it is time for social media platforms too, to bring in standards of conduct, ethics and self-regulation, rather than allowing the state to intervene and bring in draconian legislation 'to put the social media house in order'.