---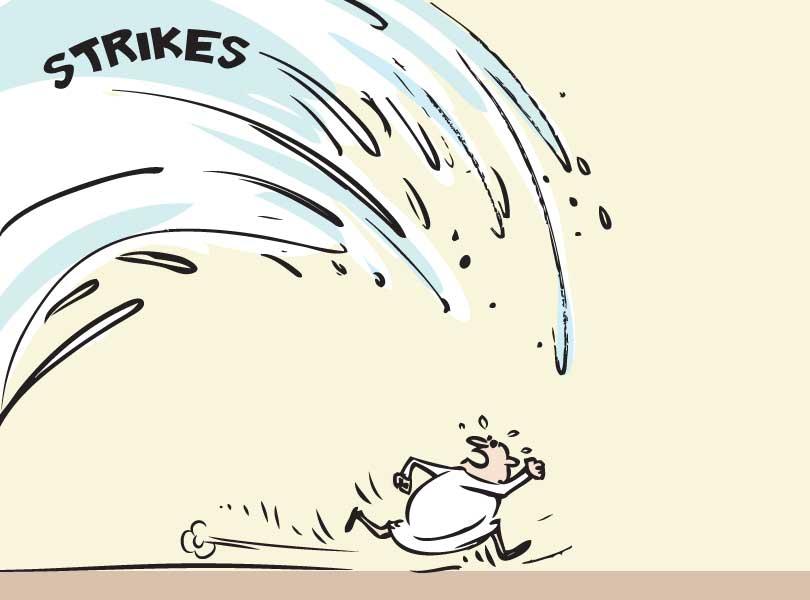 The torrential rains that unleashed their fury on Sri Lanka during the past couple of weeks are gradually abating in most parts of Sri Lanka though thunder showers have been reported from some others. The torrential rains, the resultant floods and overflowing rivers affected some 150,000 people with tens of thousands displaced and housed in temporary shelters with health officials warning people to take precautions to prevent the spread of water-borne diseases, such as dengue, skin and respiratory ailments that are known to plague the country in the aftermath of the rains.
This is the repetitious plight that has to be faced by people living in vulnerable areas and the question we ask is whether the Government is doing enough to prevent the recurrence of such calamities, not that of stopping the rains, but to prevent or minimize what follows in its wake, by dredging and de-silting our tanks and reservoirs of accumulated mud and earth so that they could hold more water to be used when we most need this vital ingredient to sustain our lives, nurture the agriculture sector and generate power to light up our homes. Rain is the work of nature and we have no control over it. It has no hidden motives, though here again the weather patterns are known to be affected by climate change and global warming often the handiwork of uncaring, thoughtless and selfish human beings.
With that as our backdrop, we now shift our focus to the spate of strikes, which has nothing to do with nature but manipulated by trade unionists who, at whatever cost to the country, hold the people they pledge to serve to ransom in their devious attempts to obtain more perks and privileges for themselves.
The trade union action be it a work stoppage, work-to-rule or sick note campaign has during the past few weeks created chaos in the country with innocent people -- whether university students because the non-academic staff are keeping away from work; patients because of the doctor's token strike, train travellers because of the strike by railway employees including engine drivers, railway guards and station masters and those who visit government departments because of the strike by administrative officers and students at government schools being left at a loose end because of a sick-note campaign by principals and teachers. These innocent people are sandwiched between the strikers and the government and made to suffer, that too for no fault of theirs.
Meanwhile, President Maithripala Sirisena is reported to have convened an emergency Cabinet meeting last Friday to discuss the prevailing situation with a committee comprising Ministers Mangala Samaraweera, Ranjith Madduma Bandara, Vajira Abeywardena, Akila Viraj Kariyawasam, Rajitha Senaratne, Harsha De Silva and Ashok Abeysinghe being appointed to review this burning question of salary anomalies and report to Cabinet with its recommendations as soon as possible.
However, State Minister of Transport and Civil Aviation, Ashok Abeysinghe hit back at the striking railway TUs saying the strike was unfair, unjust and unreasonable. "We received neither a written nor a verbal warning of the strike. We only came to know about it from the statement they had made to the media," he said and added that his Ministry would request the President to gazette the Railways as an 'Essential Service' because of the inconveniences caused to the tens of thousands of people by the strikers.
The government led by President Maithripala Sirisena and Prime Minister Ranil Wickremesinghe has been dogged by strikes during its tenure from various sectors of the public service at different times. Once again towards the end of its tenure and a presidential election to be held on November 16, being afflicted by a wave of strikes, with the trade unions probably hoping that it is best to strike when the 'iron is hot' and squeeze out as many benefits as possible at whatever cost to the country and as somewhat of a side effect, embarrass the government believing that the strike action may leave behind a disgruntled people, who in turn may turn against the government providing an opportunity for those with vested interests to score political points.
Hope the Government takes note and put its foot down hard on trouble makers and without its customary pussy footing and dilly dallying, decide wisely and judiciously once and for all as to what is best for the country and its people as dusk settles on its administration.