---
We must stop Tuvalu from sinking and the world from sinking with Tuvalu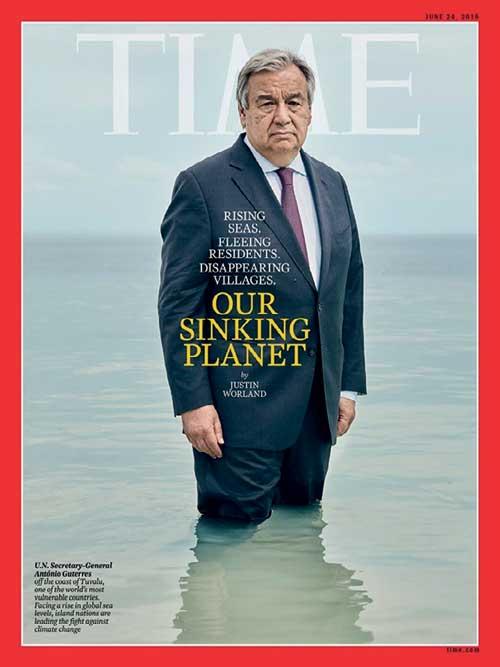 - UN Secretary General António Guterres
The TIME magazine has pulled off a coup of sorts. For its latest cover it has got United Nations Secretary-General António Guterres knee-deep in waters in the Polynesian island of Tuvalu, one of the worst hit territories from sea level rising. With the title "Our sinking planet" and with a disillusioned Guterres standing in the middle the cover, the TIME points to the urgency of the topic in hand.
The latest climate reports say that the global sea level is likely to rise by six feet by 2100 and the effects of climate change is being accelerated than it was anticipated. Besides global sea level rise extreme and unpredictable weather patterns have come to stay creating natural disasters and conflicts over scarce resources which in turn lead to mass displacement of people.

On Monday, the lead story of 'Hindustan Times' website screamed 'More than half of India is reeling from drought-like conditions' with pictures of people struggling to get a bucket of water. With the water crisis reaching dizzy heights in Tamil Nadu capital Chennai, the Chief Minister Edappadi K. Pazhanisami has requested the state government of Kerala to supply two million litres of drinking water every day. He is also organizing to bring ten million litres of drinking water to Chennai by train from Vellore in South of Tamil Nadu daily for six months.
Besides the scarcity of drinking water, the faltering monsoon has delayed the sowing of crops thus triggering fears of food shortage in the months to come and beyond.
Meanwhile, new research points that Africa is likely to be hit by more crippling droughts, flash floods and storms in the years to come, than it was expected before. Heavy disruption to farming thus further jeopardizing the food security in the hunger-hit continent is predicted.

With climate change endangering agricultural production with changing rainfall patterns and increased incidence of extreme weather events, such as droughts and floods, the Food and Agriculture Organization has been regularly warning the nations of the need for food security. It has already predicted that, besides other regions' climate change is likely to drastically affect Central America, North-Eastern Brazil, Venezuela, Columbia, Argentina, Bolivia, Chile, Peru and Ecuador thus threatening the region's food production.
Liquid Bio fuel has been proposed as means of reducing greenhouse gases, however, experts have pointed out that mass-scale development of liquid bio fuels could risk the food security of small farmers and rural communities. They have also explained that in the long-run large-scale bio fuel production will also contribute to climate change.

As for us in Sri Lanka, already there had been too many examples of how the erratic weather patterns create chaos. There had been rise in incidence of floods along Kelani and Kalu rivers over the past few years. Besides, flash floods displaced nearly 125,000 people in the Northern Province in December 2018. Heavy rain falls that began on December 22 wreaked havoc and Mankulam in Mullaithivu district reported 365.1 mm of rain fall within 24 hours. Nearly 500 houses in Mullaithivu, Mannar, Killinochchi and Jaffna districts were destroyed.
The Climate Change experts have long explained the basics of the fight against climate change which include eating a plant-rich diet, planting more trees and reversing deforestation and electrifying transport. The sad part of the climate story is that despite the palpable evidence, only a handful of people on the planet seem to be genuinely interested in contributing to the fight against climate change. The rest of the world is waiting for a miracle to happen.