---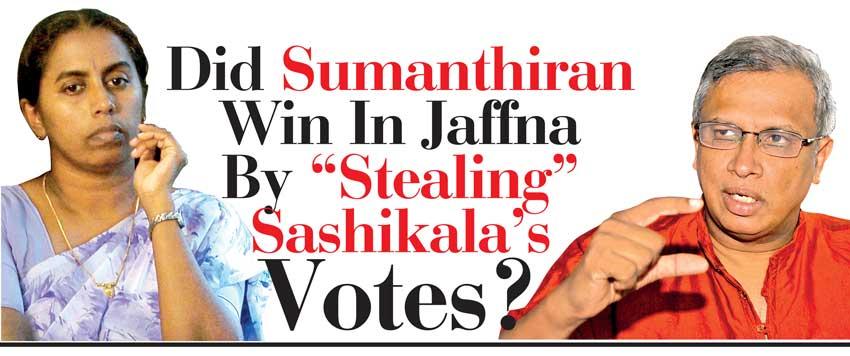 The Jaffna poll incidents are still being distortedly falsified, maliciously misrepresented and disproportionately blown up by vested interests in a propaganda blitz to vilify and undermine the wrongly accused Sumanthiran
A well-endowed TNA candidate had engaged a team of 10 to 15 propagandists for election canvassing earlier. Their duties were to send messages via telephone and also create content on the internet in favour of the candidate concerned
As is well-known the ballots are counted and verified at different locations in each electoral division. These results are finalised only after verification and consent by the counting agents of candidates from all parties at the different polling divisions
By
D.B.S. Jeyaraj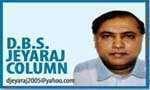 The one-word answer to the question "Did M. A. Sumanthiran of the Tamil National Alliance win in the Jaffna Electoral district by "stealing" the preference votes cast for another TNA candidate Ms. Sashikala Raviraj? is NO! Yet the 2020 Parliamentary poll in the Jaffna electoral district comprising the Kilinochchi and Jaffna administrative districts was marred by untoward incidents based upon unfounded allegations that Sumanthiran had "transferred" the preference votes of Sashikala in his favour and won the election. Moreover for the first time in Sri Lanka's electoral history the Special Task Force (STF) had to be deployed to chase away a mob trying to invade the chief or primary counting centre of a district and seize ballot boxes therein. Furthermore, the Jaffna poll incidents are still being distortedly falsified, maliciously misrepresented and disproportionately blown up by vested interests in a propaganda blitz to vilify and undermine the wrongly accused Sumanthiran.

It is against this backdrop therefore that this column focuses on the Northern election furore in a bid to inform readers of what exactly happened or did not happen last week at the counting centre located at the Jaffna Central College. We live in a time where the terms "Post-truth" and "alternative facts" are gaining wider currency. In the case of Sumanthiran too, the ridiculous charge of a "vote-stealing conspiracy" has been levelled. This article will try to present the facts and leave it to the readers to determine what the truth is.

I have on earlier occasions written about how former TNA Jaffna District MP, Mathiaparanan Abraham Sumanthiran, was being attacked widely by various persons within his own party as well as outside it. These disparate elements often acting separately were united in the objective of bringing about Sumanthiran's electoral defeat. Despite all this Sumanthiran won.

What had happened in Jaffna was that Sumanthiran's opponents had realised in the first week of August that Sumanthiran and colleague Sivagnanam Shritharan were going to win the elections in Jaffna. Shritharan was the only TNA parliamentarian from Jaffna to defend Sumanthiran and criticise the TNA spokesperson's critics. For this "offence" Shritharan too was attacked along with Sumanthiran by the newspapers owned by another TNA ex-MP Saravanabavan. Sumanthiran, Shritharan and Saravanabavan belonged to the TNA's chief constituent, the Ilankai Thamil Arasuk Katchi (ITAK), The ITAK leader Somasundaram "Maavai" Senathirajah did not take any action when Sumanthiran and Shritharan complained. Senathirajah too was contesting in Jaffna and was being supported by Saravanabavan's media. On the other hand, Sumanthiran and Shritharan engaged in joint canvassing in certain areas. The situation was one where the TNA's intra-party competition for preferential votes was chiefly between two "S- S" duos. Sumanthiran -Shritharan versus Senathirajah – Saravanabavan.

Sumanthiran -Shritharan Duo
With realisation dawning that the Sumanthiran -Shritharan duo was going to win, handbills urging people not to vote for both were printed in large quantities and widely distributed on the day/night before election day. It was a desperate measure undertaken by those in the TNA who wanted Sumanthiran and Shritharan to lose. The name of the press where the notices were printed and the identities of those who distributed them are an "open secret" in Jaffna. In spite of all these efforts, the voting trends on August 5 indicated "unofficially" that the TNA would get only three or four of the seven seats in Jaffna. The winners were likely to be Shritharan, Sumanthiran, Dharmalingam Siddharthan and/or Ms. Sashikala Raviraj. Apparently Saravanabavan and Senathirajah were not in the reckoning.

With Sumanthiran's victory being imminent, further moves were initiated to "de-legitimize" that success. A well-endowed TNA candidate had engaged a team of 10 to 15 propagandists for election canvassing earlier. Their duties were to send messages via telephone and also create content on the internet in favour of the candidate concerned. Now the team was assigned the task of spreading the "word" that Senathirajah, Saravanabavan, Shritharan, Siddharthan and Sumanthiran were the first five in the TNA in terms of preference votes and that Sumanthiran had stolen votes ("Vaakku Kalaveduthu" ) and crept ahead displacing Siddharthan in the process.

This false statement spread in a coordinated manner was circulated widely. Rumour mills began working overtime. The original message got embellished further, Soon the word spreading was that Sumanthiran had stolen votes from Siddharthan and brought about the defeat of V. Dharmalingam's son. Though Siddharthan is the PLOTE leader, his father the late Dharmalingam was an ITAK stalwart and had been an MP from 1960 to 1983.

M. K. Sivajilingam contested the 2020 polls as a candidate from the "Thamizh Makkal Thesiyak Koottani" (TMTK) led by C.V. Wigneswaran. Sivajilingam began breast-beating publicly "Aiyo Engadai Dharmalingam Annarinda Mahan, Siddharthanai Sumanthiran kalla Vaakkeduthu Thoatkadichittaan" (Aiyo Sumanthiran has defeated Siddharthan the son of our elder brother Dharmalingam through stolen votes), Sivajilingam's lament was hypocritical and ironic. Dharmalingam had been brutally murdered by the Tamil Eelam Liberation Organisation (TELO) on September 2, 1985 in Jaffna. Sivajilingam was a senior leader of the TELO at that time.

Sivajilingam's Funeral Lament
The rumour that he had been defeated through Sumanthiran's stratagem affected Siddharthan so much that he arrived at Jaffna Central College with his supporters. He told people that he had heard Sumanthiran from fifth place had displaced him. Siddharthan went in to the counting centre to speak with the chief returning officer (CRO) Mahesan. During this time Sivajilingam continued with his "oppari"(funeral lament) about Dharmalingam's son being deprived of victory by Sumanthiran. None, however, asked Sivajilingam why his TELO had deprived Dharmalingam of his life. When Siddharthan conversed with the CRO and spoke about a recount, Mahesan's response seemed to satisfy the PLOTE leader who departed happily from the venue.

Thereafter the target became Ms. Sashikala Raviraj the widow of former MP and lawyer Nadaraja Raviraj who was brutally assassinated in Colombo in 2008. Sashikala was relying on votes primarily from the Chavakachcheri electoral division that had been nursed by her late husband. Sashikala's campaign had been handled to a considerable extent by former Provincial councillor Kesavan Sajanthan. He is a lawyer closely associated with M.A. Sumanthiran. Sajanthan had canvassed for three persons – Sashikala Raviraj, M.A. Sumanthiran and "Maavai"Senathirajah the ITAK leader.

The voting figures from Chavakachcheri had come in fairly early and given Sashikala a huge boost. She was at one point among the leading three. A few people had even congratulated her prematurely on her victory. Ms. Sashikala Raviraj is a university graduate who had taught for many years at a leading Colombo Girls School. Despite this background, she was somewhat unfamiliar with simple election counting procedures. So when told that she was among the first three and congratulated unofficially, Sashikala had erroneously believed that her victory was assured whereas it was not.

As is well-known the ballots are counted and verified at different locations in each electoral division. These results are finalised only after verification and consent by the counting agents of candidates from all parties at the different polling divisions.The ballot boxes are then brought to the electoral district chief counting centre where the figures are tabulated at a district-wise level. Only re-counting and re-checking the available figures are done here. The number of preference votes gained by each candidate fluctuates as and when figures from each division is taken into account. The order in which candidates have got preference votes change depending upon who polls well in which division. The unofficial information about who and who are in the lead can change drastically. Only the result finally announced by the Chief Returning Officer is official.

Ms. Sashikala Raviraj
Unfortunately what happened in Ms. Sashikala Raviraj's case was that she had thought the unofficial information about being in the lead was more or less final. In her mind she was a winner. She had not thought the position could change with more figures coming in. This rendered her vulnerable to mischief-makers and rumour-mongers. The same elements who spread wrong information about Sumanthiran displacing Siddharthan now floated a fresh rumour to the effect that Sashikala had been elected and that Sumanthiran had forced her into resigning her seat. The results had not been announced and no one was elected but the rumour began spreading.

At one stage Sashikala's chief counting agent Sajanthan received a phone call from one of the two, TNA declaring agent Sugirthan who had been told that Sashikala was compelled to resign by Sumanthiran. Sajanthan was seated next to Sashikala at that time. He replied "ask her yourself" and gave the phone to her. Sashikala naturally denied the rumour as nothing like that had happened. However she was a little troubled and began telephoning others. These conversations kind of made her insecure about her winning position. She began going to the chief returning officer frequently and inquiring as to why it was getting late to announce the final result. Even as these moves were going on, the story began spreading that Sumanthiran had displaced Sashikala through "Kalavedutha Vaakkuhal" (Stolen votes).

Meanwhile Sumanthiran was waiting at his Jaffna residence keeping track of his position by regularly contacting his counting agents. The feedback he got from each was positive. Among the TNA candidates Sumanthiran was either leading or in second lead in all the electoral divisions. Hence he was assured of victory. At one point Sumanthiran's Uduppiddy agent Lavan telephoned him and said counting was almost over and the results were to be announced soon. Sumanthiran then proceeded to the main counting centre with Sajanthan to hear the official announcement.. When he arrived at Jaffna Central College, there was much hooting and shouting from the crowd assembled outside. There were repeated shouts of "Kallan" (thief or rogue). Apparently the tale of Sumanthiran winning by stealing votes had spread widely. It was even being propagated worldwide through Youtube, telephone messages and social media.

Sumanthiran has been afforded protection by the Special Task Force (STF) following the uncovering of three conspiracies by overseas tiger elements to assassinate him. Much evidence has been unearthed about these wealthy Diaspora "tigers" financing ex-LTTE cadres and members of the underworld in Sri Lanka to kill Sumanthiran. Although Sumanthiran had not sought protection both the past and present Governments had deployed the STF due to credible intelligence reports. Recently his STF detail was enhanced on a recommendation by the State Intelligence Service (SIS) after an ex-tiger cadre died at Iyakkachchi in an explosion while making bombs. It is believed that the explosive devices were being manufactured to throw at election meetings addressed by Sumanthiran and kill him.

Special Task Force
Some of the Special Task Force personnel left their weapons in their vehicles and accompanied Sumanthiran unarmed into Jaffna Central College premises. It is very possible that Sumanthiran may have been manhandled but for the STF and Police presence. Sumanthiran and Sajanthan went inside and sat in the result announcement area away from the Chief Returning Officer. At no stage did Sumanthiran speak to Mr. Mahesan or enter the counting area. At one point Ms. Raviraj came in and spoke to the Chief Returning Officer. It is presumed that she asked him when the results would be announced. She then went outside again.

Meanwhile the crowd outside was turning boisterous chanting slogans against Sumanthiran and shouting out he was a vote robber. Some persons began berating former NPC chairman C.V. K. Sivagnanam and ex-Jaffna MP S. Shritharan who were also there. Gradually the shouting got louder and the crowds began transforming into a mob. Bits and pieces of food, water bottles and even a few stones were thrown at the Central College precincts. Soon the story began circulating that Sumanthiran was engaged in transferring preference votes cast for Sashikala in his favour.

The mob now tried to enter the Counting Centre premises. The avowed intention was to prevent the fraud being allegedly perpetrated by Sumanthiran. It was a serious situation. If the mob broke into the counting centre and seized the ballot boxes the entire Jaffna election would have been jeopardized. Besides the Election Commission Chairman had already instructed the Police to shoot if necessary.

However, the SSP in charge at Jaffna Central College did not resort to such extreme measures. He called in the STF and Police riot squads who had been placed in the vicinity in readiness for such emergencies. The STF personnel responsible for Sumanthiran's security were not involved in this exercise. Fortunately for all, the STF and Police were able to quell the disturbances and disperse the mob easily and quickly. A Tamil eye-witness told me "There was no need of any rubber bullets or tear gassing.They (mob) just ran away 'helter- skelter'(arakkap parakka) and scattered in no time."

According to informed security sources the mob involved comprised an assortment from different parties. Most of the rabble were SLFP candidate Angajan Ramanathan's supporters. Others involved were supporters of M. K. Sivajilingam and some supporting the Tamil Congress. The unkindest cut of all was that several of the mob were identified as those supportive of TNA candidates "Maavai" Senathirajah and Emmanuel Arnold. In fact Senathirajah's son Kalaiamuthan was among those present at the venue though he remained aloof from the mob. Another key figure identified in the mob fracas was a TNA activist from the Kayts constituency who is reportedly the henchman of a prominent Tamil lawyer with links to the party.

After the mob had dispersed an assistant returning officer informed Sumanthiran that the official announcement would get further delayed. So Sumanthiran left the premises through another exit. Some persons waiting in that area saw the TNA spokesperson and ran towards him shouting "Kallan" again and again. The Police on duty and STF personnel chased them away. Sumanthiran returned home and awaited the official result announcement.

Three Out Of Seven Seats
When the results were announced the TNA contesting as ITAK under the House symbol got three out of seven seats in Jaffna. Shritharan (35,884), Sumanthiran (27,834) and Siddharthan (23,840) had been elected MP's on the basis of their preference votes. Ms. Sashikala Raviraj was not elected though she came fourth with 23,098 votes. Saravanabavan and Senathirajah came fifth and sixth with 20,392 and 20,358 votes respectively. Later Sumanthiran was to reveal to the media that among the TNA candidates he had come first in the Point Pedro, Uduppiddy and Nallur divisions and second in all the others. He also said that about 20,000 of votes gained by Shritharan were from the Kilinochchi administrative district while he got around 21,000 votes in the Jaffna administrative district. This was the highest number of votes polled by a TNA candidate in Jaffna administrative district.

Though Sumanthiran had earned a well- deserved victory fighting against overwhelming odds, he was unable to savour his triumph joyfully. Sashikala Raviraj had failed to get elected. Her tally was just 742 votes short of Siddharthan who got elected as the third MP. Usually narrowly defeated candidates level charges against the candidate just above them. In this case, if Sashikala had a complaint, it should have been against Siddharthan. However Sashikala and her daughter began accusing Sumanthiran who had got 4,700 votes more than Ms. Raviraj.

What had happened according to an official - involved in the counting - who spoke on the condition of anonymity was this. Most of the Kilinochchi and Chavakachcheri votes had come in early. This enabled Shritharan and Sashikala to gain an early lead. Shritharan was the first and Sashikala the second in the TNA to top 20,000 votes. But when the other votes came in, Sashikala's tally was practically frozen while Sumanthiran gained ground to overtake her and be second to Shritharan. Still Sashikala was third. Again when the Kopay and Manipay votes came in Siddharthan's total began mounting and he edged her out by about 700 votes.

Sashikala made some statements to the media implying that Sumanthiran had deprived her of victory. She said that she had been congratulated "unofficially" for winning but had suddenly lost her position after Sumanthiran entered the Counting centre premises. Her daughter Praviinaa who had graduated in Law in London went further by posting explicit accusations against Sumanthiran. When well-meaning persons pointed out that her allegations were without any substance and tried to explain how the electoral counting process worked, Praviinaa retorted nastily heaping accusation after accusation.

The sight of a weeping Sashikala and sobbing Praviina went viral. The false charges were propagated world-wide extensively. Soon a massive campaign was orchestrated against Sumanthiran in Sri Lanka and abroad. He was accused of stealing votes from Sashikala Raviraj and winning. A woman claiming to be the late Raviraj's cousin announced in front of his statue in Chavakachcheri that she was fasting to death until Sashikala was elected MP. She also covered the Raviraj statue's face in black.

In another disgraceful twist Angajan Ramanathan, M.K .Sivajilingam and Ananthy Sasitharan went to Sashikala's residence along with TV cameras and crew to express sympathy and condemn Sumanthiran. They urged her to take legal action against Sumanthiran and said they will look after her expenses. Sahikala was non – committal.

Revised Earlier Stance
After a few days Sashikala seemed to have revised her earlier stance and said she was not blaming or accusing Sumanthiran. She said that she condemned only the deployment of the STF. Sashikala also posted an entry on her Facebook page congratulating Shritharan, Sumanthiran and Siddharthan. Her daughter Praviinaa's facebook page that was the mainspring of the anti-Sumanthiran campaign was abruptly de-activated.

It appears that the Raviraj family had realised they were wrong in falsely accusing Sumanthiran of election fraud. However the damage done cannot be rectified so easily. Sumanthiran was vilified and attacked unjustly over the media and social media.

The anti -Sumanthiran lobby has utilised the incident to tarnish the re-elected MP's image and take the sheen out of his magnificent triumph. Having failed to prevent Sumanthiran from winning, these pathetic elements are trying hard to de-legitimize his legitimate victory.

D.B.S. Jeyaraj can be reached at [email protected]