---
Pathi's film characters were usually apolitical, conveying a certain degree of political enlightenment through their screen consciousness
An underlying thread in most of Pathiraja's films is the political theme or sub-text
Pathiraja's films, relating mostly to the underprivileged and marginalised sections of society made them appear anti-establishment and anti-systemic by nature
By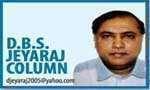 D. B. S. Jeyaraj
January 28, 2021 was the third death anniversary of famous filmmaker Dharmasena Pathiraja. The renowned academic cum film director, referred to as "Pathi" by almost everybody he interacted with, breathed his last on the morning of January 28, 2018 at the Lakeside Hospital in Kandy. He was 74 years and had been ailing for some time. The funeral of Dharmasena Pathiraja took place at the Mahaiyawa cemetery in Kandy on the evening of January 28 itself. Pathi, who lived a full life as a free spirit according to his own rules, had wanted a swift and simple funeral sans speeches and religious rites. His wishes were adhered to. Pathi leaves behind wife Malani Kusumalatha and two children Sumedha and Milinda.

I intend this week to commemorate the third death anniversary of Dharmasena Pathiraja in this column. I have already written about him immediately after his demise. This column would therefore be a modified version of that article. The heading of this article refers to Dharmasena Pathiraja as the "enfant terrible" of Sinhala Cinema.

Enfant terrible is a French phrase referring to a candidly unruly child who causes terrible embarrassment to parents and elders by his or her outspoken comments. However, the usage of the phrase in the artistic sphere often denotes a successful "creative genius" who is rebelliously unconventional. The Webster's Dictionary for instance defines enfant terrible as "a usually young and successful person who is strikingly unorthodox, innovative, or avant-garde". As such I refer to Pathi as enfant terrible because I regard him as an unconventionally creative filmmaker who churned rebelliously successful waves in Sinhala Cinema.

"Pathita Panahai" (Pathi at 50)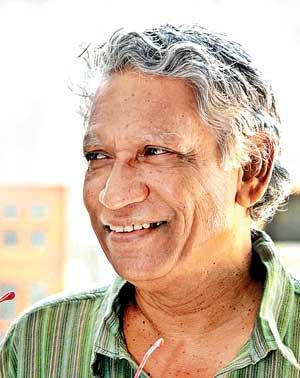 Sri Lanka's Information Department organised an event "Pathita Panahai" (Pathi at 50) to celebrate the 50th anniversary of Dharmasena Pathiraja's artistic life on June 26, 2017. In an artistic life spanning five decades, Pathiraja composed poetry, wrote scripts for radio and stage plays, made short films, documentaries, docudramas TV serials and Teledramas; and of course he wrote screenplays and directed several feature films.

Pathiraja was also an academic having served as a lecturer in several universities in Sri Lanka. He also obtained a Masters degree from the University of Peradeniya and a doctorate from Monash University in Australia. Despite this impressive list of accomplishments, he remained a simple, unassuming man who was easily accessible and could be addressed by all as "Pathi."
His illustrious cinema career's impact is everlasting. The rational and cinematic wisdom that he added suffice for him to be remembered

The most outstanding aspect of Dharmasena Pathiraja's creative life was his filmmaking. He made nine feature films. Among these was "Ponmani", a Tamil film shot on location in Jaffna. Both the form and content of Pathi's films were quite new to Sri Lankan audiences. He did not merely tell a tale but showed a story of multiple layers of in-depth on screen. Sensitive and sensible film fans could immerse themselves in the viewing experience, feel an emotional empathy with the meticulously constructed characters seen on screen and afterwards exit theatres feeling challenged by the subtle sub-text of philosophical and political messages.

An underlying thread in most of Pathiraja's films is the political theme or sub-text. The storyline is not overtly political but there is a covert political message. The main characters are seldom political or politically conscious except perhaps Weerasena played by Wimal Kumar de Costa in 'Bambaru Avith'. The character was in a sense a caricature. Interestingly, the joke those days was that the "lecturing" role was a personification of Dharmasena Pathiraja himself. Pathi's film characters were usually apolitical, conveying a certain degree of political enlightenment through their screen consciousness. The experience, form, content, and ideological subtext of Pathi's films made them political.

Pathiraja's films, relating mostly to the underprivileged and marginalised sections of society made them appear anti-establishment and anti-systemic by nature. This earned for Pathiraja various labels like "rebel with a cause" and "enfant terrible of Sinhala cinema" etc.

Pathi himself was dismissive of such labels. In an interview with Brandon Wee in 2004 for "Senses of Cinema" he said: "It's really metaphorical. One should not think of the artist as a rebel who is going to bring about objective change. The rebel is within you. So you rebel not against the world but against yourself. In Asian societies, one struggles to capture reality in rebellious terms. Pathi went on to define his creative philosophy as a film director by saying "One recreates realities through a rebellious search for freedom of expression from the tired old forms, the familiar ways of capturing reality and the experiences of social reality. This rebellion has to come from within one by way of confronting familiar truths."

Godakandeniya near Peradeniya in Kandy
Ranjith Pathiraja Navaratne Wanninayake Mudiyansalage Ranjith Dharmasena known to the world at large as Dharmasena Pathiraja was born on March 28, 1943 in Godakandeniya near Peradeniya in Kandy. He was the fifth child of Navaratna Wanninayake Mudiyanselage George Premachandra Pathiraja and Dona Leelawathi Gurusinha. Pathi's father was a leftist with communist party leanings. Dharmasena, however, grew up to be a Trotskyite fellow traveller of the Lanka Sama Samaja Party (LSSP).

During childhood, Dharmasena would be taken frequently to the historic Buddhist pansala at Godakandeniya and also to the Hindu Mariamman temple in the vicinity. After primary schooling at the trilingual village school, Dharmasena Pathiraja was admitted to Dharmaraja College, Kandy. He entered the Peradeniya University from Dharmaraja and obtained in 1967 a BA honours degree in Sinhala and western classical culture.

Dharmasena's childhood was devoid of cinema. His family perceived films negatively and the children were forbidden to see movies. He saw his first film at the age of 14 and was fascinated. It was a defining moment. The fascination with the moving image stayed with him throughout.

Pathiraja's liking for movies developed on a refined scale after he became an undergrad. Apart from seeing films regularly at the "Odeon" in Kandy, Pathi also became a member of the University of Ceylon film society affiliated to the Federation of Film Societies in Colombo. Dharmasena Pathiraja saw many, many films during his undergraduate days. They were of the best of their kind produced by European countries such as France, Germany, Spain, Poland, Czechoslovakia, Italy, Sweden, and Asian countries such as Japan and India.

He shuttled frequently between Colombo and Kandy seeing films of the finest quality. In the process, he also interacted with leading film personalities. As an undergrad, two great influences on Pathi were Prof. Ediriweera Sarachchandra of "Maname" fame and Dr. Siri Gunasinghe who directed "Sath Samudura". Pathi's closest buddies at the campus were two "Berties" – Berty Gunasekara and Bertie Jayasekara.

Sugathapala Senarath Yapa's "Hantane Kathawa"
Pathiraja's initial break into films was with Sugathapala Senarath Yapa's "Hantane Kathawa" which was also the film debut of Vijaya Kumaratunga. The lead roles were played by Tony Ranasinghe and Swarna Mallawarachchi. The story based on undergraduate life was set in the Kandy vicinity and Peradeniya amidst campus surroundings.
Dharmasena spent his time hanging out with the film director and his assistants. He was enlisted as a co-writer for the script. Pathi also associated closely with the cinematographer crew of Sumitta Amarasinghe and Donald Karunaratne, working like an unpaid assistant but thoroughly enjoying himself while gaining experience. Hanthane Kathawa was released in December 1969 and was a smashing success.

Pathiraja became a lecturer at the Vidyalankara campus in Kelaniya after an eventful period of being an "unemployed arts graduate". He also immersed himself in dramas. Among the dramas he wrote were two original plays "Kora Saha Andaya" and "Vangagiriya".

Kora Saha Andaya (the blind and the lame) was of the absurd drama genre. It was put on the boards by the legendary Dhamma Jagoda. Pathi also translated and directed Eugene Ionesco's "Chairs" in Sinhala as "Putu" for which he got a state drama award in 1971. He also translated and adapted the classical Greek comedy "The Birds" as "Kurullo" in Sinhala.

In later years Pathiraja was to get a Masters degree from Peradeniya University for his thesis about the struggle between form and content in Sinhala theatre. He developed his thesis into a book titled "Sinhala Naatye Aakruthiyahaa Anthargathayaathara Aragalaya" (struggle between the form and the content of Sinhalese theatre).
Meanwhile, his passion for movies continued. Having acquired a sound theoretical knowledge about films and filmmaking, he yearned to put it into practice. Unable to find any financial backers for a full-length film, Pathi decided to try his hand with a short film.

Short film "Hathuro" (enemies) screened in 1970
He raised money for the project by getting a distress loan and through contributions from friends. The 35 mm black and white film named "Hathuro" (enemies) was screened in 1970. The 10-minute long short film won the Film Critics and Journalists Association of Ceylon (FCJAC) award and was sent to the prestigious International short film festival in Bilbao, Spain. It was rated among the top ten from over 350 entries.

Having tasted the fruits of successful filmmaking, Dharmasena Pathiraja, helped by friends, tried hard to collect enough money to produce a full-length feature film. After months and months of disappointment, a benefactor was found.

Mitraratne Herath of Mahiyangana came forward to produce the film. An elated Dharmasena Pathiraja who had already written the screenplay assembled a team including cinematographer Donald Karunaratne, music director Premasiri Khemadasa and film editor Jayatissa Dillimuni and went ahead with the direction.

From "Ahas Gawwa" (1974) to "Swaroopa" (2014)
The 110-minute film "Ahas Gawwa" (one league of sky) was released on January 24, 1974. The film made history. Dharmasena Pathiraja had arrived as a revolutionary Sinhala film director. From "Ahas Gauwa" in 1974 to "Swaroopa" in 2014, Pathi made nine feature films. The others were "Eya Dan Loku Lamayek", "Ponmani", "Bambaru Avith","Para Dige", "Soldadu Unnehe", "Mathu Yam Davasa" and "Sakkarang". "Bambaru Avith" is regarded as his finest film but others such as "Soldadu Unneha","Ponmani" ,"Eya Dan Loku Lamayek" and "Para Dige" have also been critically acclaimed widely. Three other feature films by Pathi have not been screened. They are "Sura Kandavura", "Shelton saha Kanthi" and "Vasuli". Apart from feature films Dharmasena has made six documentaries docudrama/short films and eleven teledramas/TV serials.

In a discussion at the International Centre of Ethnic Studies (ICES) in Colombo some decades ago, the noted writer and critic Regi Siriwardene observed that Dharmasena Pathiraja was to some extent the Jean-Luc Godard of Sri Lanka. The French director Godard was foremost among those who pioneered the "La Nouvelle Vauge" or "New Wave" in French cinema. Godard has been described as an "innovative maverick and intellectual visionary who changed the rules of film making profoundly. It has been said of Godard that he "not only changed the way films were made but also changed the way audiences watch them".

This applies somewhat to the film making art and craft of Pathiraja too. Like Godard, Pathiraja also was a practitioner of "Verfremdungseffekt" coined in German by Bertolt Brecht and known in English by names such as distancing effect, estrangement effect, or alienation effect.

Anthony Squiers, in his book 'An Introduction to the Social and Political Philosophy of Bertolt Brecht: Revolution and Aesthetics' explains "Brechtian distanciation" in the following manner. "Brecht wanted to "distance" or to "alienate" his audience from the characters and the action and, by dint of that, render them observers who would not become involved in or to sympathise emotionally or to empathise by identifying individually with the characters psychologically; rather, he wanted the audience to understand intellectually the characters' dilemmas and the wrongdoing producing these dilemmas exposed in his dramatic plots." Squiers also emphasised that "moving away or distancing he sought through these effects was a distancing of familiar conceptualisation and not a distancing of the audience from the play's performance and its content."

Jean -Luc Godard and Dharmasena Pathiraja
Jean - Luc Godard was greatly enamoured of Brechtian distanciation in drama and applied those techniques with suitable modification to cinema. In Sri Lanka, Dharmasena Pathiraja was the first to adopt the Godardian method of Brechtian distanciation in films.

Apart from this, Godard was also famous for revolutionary film techniques such as the introduction of "jump cuts" in editing. Earlier filmic narration was very linear with film editing following a smooth logical pattern. Godard discarded this generic way of storytelling and relied on a somewhat haphazard style of unexpected jump cuts. He also replaced the "shot-reverse-shot" form in conversation scenes. Godard would either focus on the face of characters doing the talking and/or show all conversing characters in the same frame.

Pathi's films too display such Godardian characteristics. When these new forms of film narration were first witnessed in Sri Lanka, critics and reviewers were baffled but audiences, though puzzled, responded more warmly then noted Regi Siriwardene.
Pathi is a true artiste. He had a political vision and his films, especially the black and white films in the early stage of his career, were made in line with this vision

When Brandon Wee interviewed Dharmasena Pathiraja in 2004, one of the questions posed by Wee was "What is the status of Sri Lankan cinema?" Pathiraja answered thus: "It is quite productive. I think we can call filmmakers like Asoka Handagama and Prasanna Withanage the third generation. They're courageous, creative and have amazing talent. But all of us are suffering from a lack of finances. We can't think what our next films will be because if you don't have any kind of finance, it means you can't think about anything. You can't even begin to conceive a new film."

Asoka Handagama speaks about Pathi
Since Pathiraja had referred to Asoka Handagama in glowing terms, I contacted the film director and discussed Pathi after the film director's death in 2018. I asked Asoka whether he had ever worked in films with Pathiraja. He replied: "I haven't worked with him on a film project, but I have worked with him on other film-related assignments, like training sessions and workshops that he conducted."

I then asked him about what was distinctly remarkable about Pathi's filmmaking and of Pathiraja's contribution to Sri Lankan cinema. Asoka Handagama in reply stated: "Pathi is a true artiste. He had a political vision and his films, especially the black and white films in the early stage of his career, were made in line with this vision. He used celebrity icons like Vijaya Kumaratunga and Malani Fonseka to portray the roles of socially marginalised people. He introduced actors like Amarasiri Kalansooriya, to cinema. His most remarkable exercise for me is the use of Brechtian alienation effect in his cinema language. That enabled the audience of his cinema to stay and view the film from a distance so that he/she could consciously read the political content of it. He was a trendsetter. His illustrious cinema career's impact is everlasting. The rational and cinematic wisdom that he added suffice for him to be remembered."

I also questioned Asoka as to whether he had been inspired or influenced in filmmaking by Dharmasena Pathiraja. Asoka said "yes" and went on to elaborate further. "Pathi was the catalyst for the second-generation filmmakers in Sri Lanka. All of us in our generation were influenced by his work; especially to use cinema for a political discourse. We tried to take his discourse forward from where he stopped. Our topics were even more radical and politically sensitive. He had been with us all the way till his death. He fought with us for the freedom of cinematic expression."
When asked which of Pathi's films he liked most, Asoka responded: "My favourites are Ahas Gauva, Bambaru Avith, and Para Dige. His best for me is Paradige. Paradige perfectly portrayed the destiny of youth in the post-1977 economic reforms."

"Senses of Cinema" Interview with Brandon Wee
Let me end by summing up Pathiraja's fascination for filmmaking, the influence of the leftist tradition in his life and using film as a protest medium in his own words. In the "Senses of Cinema" interview mentioned earlier, Brandon Wee asked Pathiraja " How did filmmaking become your calling?". The response was –

"My fascination for moving images began at 14 when I saw my first film, but we were forbidden to go to the cinema because our families saw it as a corrupting medium. It was not a well-recognised medium of art but seen as entertainment. When I saw my first film, it was like seeing a magic show. I was so excited then I didn't know how to express myself; I was fascinated. I started off as a writer: I wrote short stories, poems, drama and read about literature, but the fascination with the moving image stayed with me throughout. Then, as a student at the university, I read about cinema, got highly involved with the film society movement and watched many films, especially from outside Sri Lanka. We didn't have any institution to teach film but I finally got involved with filmmaking while working with some senior technicians. It was like a lifelong desire that came true, that was achieved. I thought it was my medium; me. I could not find a better way of capturing reality around me. At the same time, I associated closely with the Left movement in Sri Lanka. I was never a party member of any political movement but sympathised intimately with some of the organisations. The political protests expressed through the Left programmes combined and prodded me toward a protest medium in film. I don't think this was a deliberate attempt but an undercurrent. The Left opened up challenges not only in the avowedly political field but also in the area of form. For me, that kind of courage to think beyond the confinements of the familiar was an important part of the Left tradition, especially where my films were concerned."

D.B.S.Jeyaraj can be reached at [email protected]