---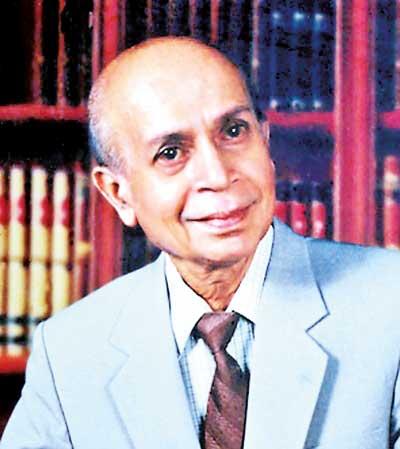 With party politics having degenerated from what was expected to be a Public Service to a big business, most people are looking for a statesman to vote for at the upcoming Presidential Election. On Monday Sri Lanka lost the legendary Professor Carlo Fonseka who had the vision, virtues and values of a statesman.
Simple, humble and soft-spoken Prof. Carlo preached only what he practised and practised what he preached, especially in the field of medicine, which he considered a sacred vocation though that also later became a profession and has now become largely a big profit-making business and tragically at the expense of innocent, unsuspecting patients.
Prof. Carlo was suffering from a heart ailment and died at the age of 86. He lamented to a confidante that his heart problem on his death bed would be that though he had trained hundreds of doctors to be patient-friendly and give top priority to the well being of patients, most of the doctors have now become business people caught up in the system of profit-making. For instance, he would point out that medical college textbooks referred to medicinal drugs only by their generic names. Then who taught or teaches doctors about brand names? That is done largely by the Big Pharma medical representatives, who only have GCE O/L or A/L qualifications and are seen brandishing the branded drugs near the rooms of consultants at private hospitals.
Sri Lanka spends billions of rupees every year for the import of these branded drugs, many of them being non-essential. Take the case of the widely used antibiotic Amoxicillin. The State Pharmaceutical Corporation (SPC) outlets sell it at a few rupees but some brand names cost as much as Rs. 100 a capsule.
Prof. Carlo fearlessly fought against the Big Pharma Mafia though he believed this Mafia's agents were responsible for the untimely death of Prof. Seneka Bibile, another prophet of modern medicine, one of Asia's best-known pharmacologists and the first Chairman of the SPC.
Prof. Carlo was educated at Maris Stella College in Negombo and St Joseph's College in Colombo. After school he joined the University of Ceylon's Faculty of Medicine in Colombo in 1955, graduating in 1960 with a first-class MBBS degree. After graduating Prof. Carlo joined the Colombo General Hospital as an intern under Professor K. Rajasuria and senior surgeon Dr Noel Bartholomeusz. He then joined the Base Hospital in Mirigama, near his home village of Divulapitiya, as a medical officer. In 1962 Prof. Carlo joined the University of Ceylon's Department of Physiology as a lecturer. He joined the University of Edinburgh's Department of Physiology in 1964 to pursue his doctoral studies, obtaining a PhD in 1966. Prof. Carlo returned to the University of Ceylon's Department of Physiology in 1967. He was a professor at the department from 1982 till 1989. The North-Colombo Medical College (NCMC), a private medical school, was nationalised in 1989 and in 1991 it became the Faculty of Medicine of the University of Kelaniya with Prof. Carlo as its first Dean.
For about fifteen years Prof. Carlo was also the Senior Patron of the People's Movement for the Rights of Patients (PMRP) and played a leading role in helping the movement to draft a bill for the implementation of the Seneka Bibile Policy to provide quality drugs at affordable prices. The draft provided for the number of imported drugs to be reduced from more than ten thousand to less than thousand with the imports being made on five factors – quality, efficacy, safety, the cost of the drug and the need for it. The Bibile Policy, amputated under American pressure in 1977, was finally reintroduced in 2016 with the setting up of the National Medicines Regulatory Authority (NMRA).
In 2012 Prof. Carlo was appointed as the President of the Sri Lanka Medical Council, the highest medical body in Sri Lanka. He continued to play an active role in the movement for the implementation of the Seneka Bibile Policies and to restore a patient-friendly health service.
Besides medicine, Prof. Carlo was also closely involved in literature and arts. He was a composer of many popular songs including Raththaran Duwe. His vision and goals for a just society came from his long-standing links with the Lanka Samasamaja Party (LSSP) but he did not get involved in party politics.
Farewell Prof. Carlo, may host of angels sing thee to thy eternal rest because you were other-centred, sincere and selfless in your service to the people so much so your last will was that your body be donated to the Medical Faculty of the Kelaniya University.