---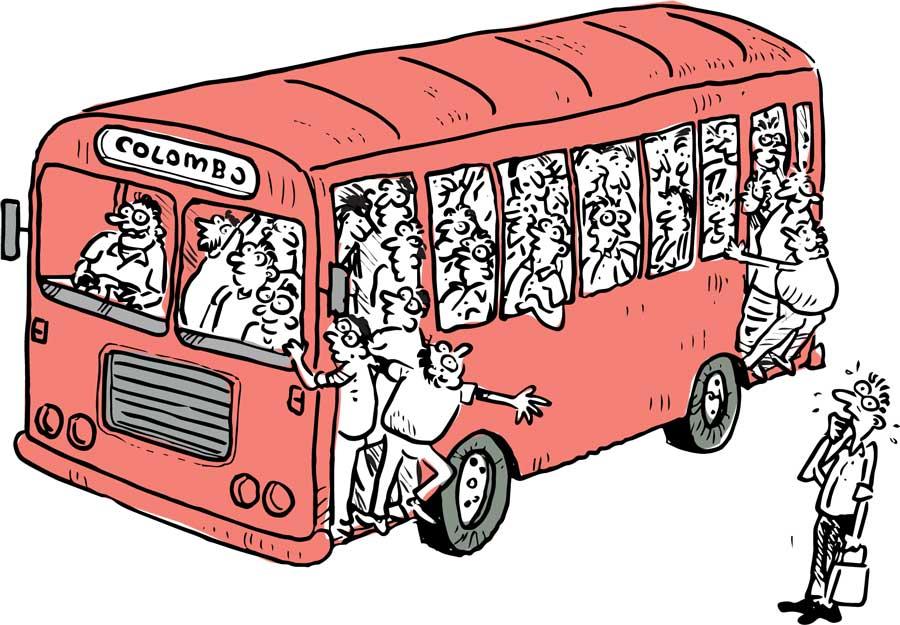 The National Transport Commission's (NTC) proposal to make public buses carry passenger in keeping with seating capacity must be lauded for several reasons.
This would not only curtail the spread of COVID-19, but also help commuters enjoy the journey till they reach their destinations.
This news, conveyed to the public by Power Energy and Transport Minister Mahinda Amaraweera, provides music to the ears of commuters who have experienced some form of harassment while travelling in public buses.
The bus is the most popular mode of transport in the country largely because it is available in most places, covers most areas in the island and is cheap.

But the condition of some of these buses plying on the roads of Sri Lanka is appalling. Many buses run using lorry engines;hence travelling in them is extremely difficult.
The environment menace caused by such buses is a negative factor that needs the attention of the authorities.
COVID-19 has changed our lifestyles and made us take note of others. We can't be selfish if we are to deal with this virus, which is expected to be around for many more months.

As a result we might not be able to, while being seated, offer to carry the luggage of someone standing and travelling on the bus. This might be a thing of the past if buses carry passengers in keeping with the seating capacity. No one might encounter the need to offer an old gentleman or lady his or her seat in future as a result of these new proposals to be implemented. Offering some sweetmeats to the passenger next to you might soon be considers not a good idea. Our thinking as commuters would have reached the next level health wise. But with these raised standards which must be maintained while travelling we might see a chunk of humanity fall off. These are perhaps prices we pay to combat this deadly virus.

The regime has ensured that all buses will be sprayed with disinfectant chemicals at the end of a journey. Efforts are also being made to maintain hand sanitizers in these state run buses for the protection of passengers. It's up to the passengers to do their part as responsible citizens of Sri Lanka; a country that has coped quite well with the COVID-19 pandemic when scores of citizens are dying each day in other countries even after the virus has passed its peak.
The minister told a media gathering recently that these proposals would be subsequently implemented in private buses too.

The proposals also make it compulsory for the conductor to issue each passenger with a ticket; which gives details of point of boarding, the destination and the price. This would in time to come put an end to practices in some private buses of not issuing tickets. But for much of the above to happen measures will have to be taken to strengthen some of the existing laws.

Right now buses are carrying limited passengers with ease because most offices are getting down a limited number of staff. But how well passengers would fit in with the proposed regulations, only time will tell. This is because a good number of Sri Lankan commuters, who frequent state run buses, no little about discipline.
Lets hope that the government oversees the implementation of these new regulations and make the transport authorities continue with them.