---
By Ananda I. Jayakody
The Attanagalla Chief Magistrate M.Y.M. Irshadeen had revoked yesterday (14) the warrant issued to the suspects; the Deputy Petroleum Minister Sarana Gunawardena and Attangalla PC member Gihan Chinthaka for the charge th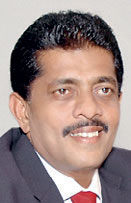 at they had inflicted a damage amounting to Rs. 350,000 by vandalising the Housing Complex being built in Horagolla in Nittambuwa.
The warrant was issued to the suspects on October 7, since they were not present in the Court. The defence lawyer for the suspects, Attorney-at-law Stanley Samaraweera told the Court that they were absent due to illness.
Having considered the medical reports, the Magistrate revoked the warrant and postponed the hearing to November 18.