---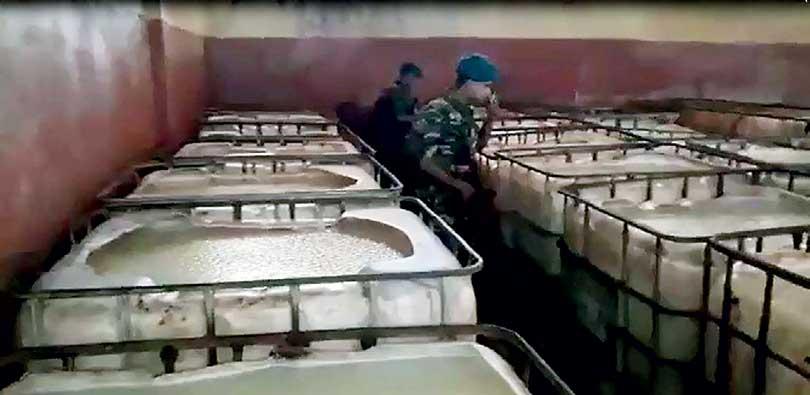 By Kurulu Koojana Kariyakarawana and Darshana Sanjeewa Balasuriya
A large stock of artificially manufactured toddy amounting to 83,000 litres was seized by the Police Special Task Force when they raided an illicit distillery in Kaluwamodara, Aluthgama last morning.

The STF on information received, raided the illicit distillery carried out in a large warehouse on the Wele Pansala Road in Kaluwamodara and seized the stock whilst taking its owner
into custody.

Police Spokesman SP Ruwan Gunasekara told the Daily Mirror yesterday the preliminary inquiries revealed that the arrested person did not posses any permit to
manufacture toddy.

The suspect had been identified as 53-year-old Sinhara Sudath Kumara de Silva alias 'Sudha', a resident of the same area.

He was suspected to have carried out the illicit trade for a long time under the nose of the law enforcement authorities and the excise officials.
The suspect was recognised as a major toddy supplier to a leading arrack manufacturing brand in the country over a long time.

The illicit beverage had been stored in large tanks situated within the warehouse and the STF sleuths had taken initial samples of the stock to be sent to Government Analyst to determine whether they were artificially manufactured.

The investigators suspect that the basic coconut toddy collected from this warehouse was adulterated and chemically enhanced by adding ammonia and other material hazardous for human consumption.

By adulterating natural coconut toddy to enhance the quantity and its alcoholic strength the manufacturer was suspected to have defrauded a large sum of tax revenue to the government.
The seized goods were handed over to the Aluthgama Excise Officials for further investigations.

The STF and Excise are however conducting investigations to determine whether the manufacturer is a license holder to have been able to produce such large stocks of toddy to be supplied to a leading distillery.
He was suspected to have carried out the illicit trade for a long time under the nose of the law enforcement authorities and the excise officials