---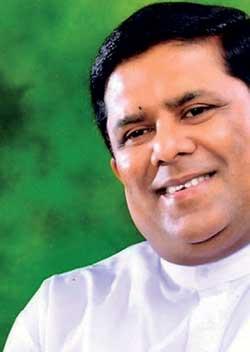 By Chaturanga Samarawickrama
The constitution of our country has been crippled and therefore, any party or person cannot win the upcoming Presidential election without being in an alliance, Internal & Home Affairs and Provincial Councils & Local Government Minister Vajira Abeywardana said.

He made these observations while addressing a meeting at Galle yesterday.

"The constitution is not a thing which can get repaired from time to time. It was introduced by the former President J. R. Jayewardene in 1977 in order to remove obstacles to the country's development at that time. A Constitution is a document and it will get damaged when patches are made from time to time. Now it is not in a proper order," the Minister said.
The constitution which we have now a damaged document," the Minister said.

"12.5 per cent of votes was the minimum a candidate had to obtain to win a parliamentary seat from a district during the parliamentary election. But it had been brought down to five per cent following a request of the former President Ranasinghe Premadasa in 1988," the Minister said.

This had been a threat to our party in 1994," he said.

"Likewise, I can mention of several places in which we had gone wrong in our party. Finally, our Prime Minister Ranil Wickremesinghe had to face the biggest challenge," the Minister continued."Ranil Wickremesinghe was defeated by 150,000 votes during the Presidential elections held in 2005. The Janatha Vimukthi Peramuna (JVP) had supported the former President Mahinda Rajapaksa.

"If the JVP did not form an alliance with Mahinda Rajapaksa, Ranil Wickremesinghe would have become the President in 2005," the Minister Abeywardana added.
A Constitution is a document and it will get damaged when patches are made from time to time. Now it is not in a proper order