---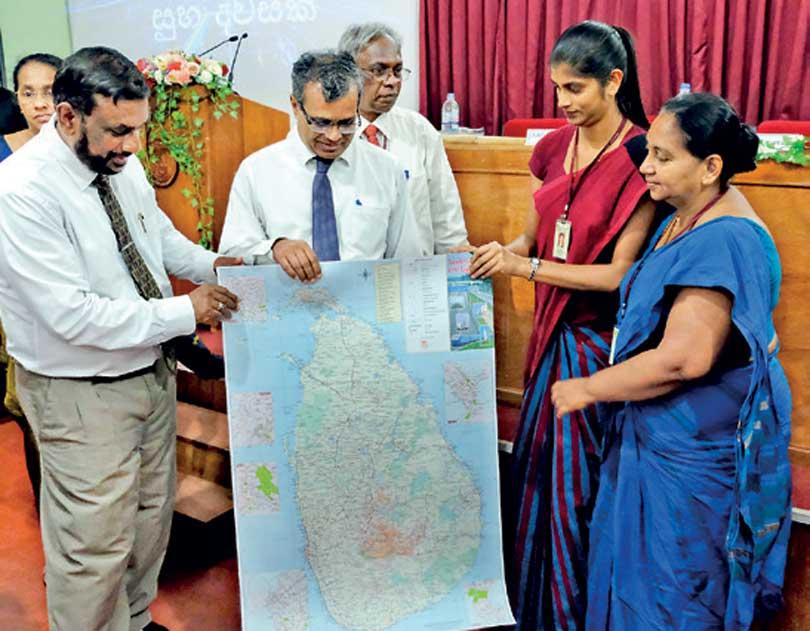 By Chaturanga Samarawickrama
The Surveys Department published the eighth edition of the travellers map of Sri Lanka following a launching ceremony at the Department on Wednesday.
Speaking to the Media the Department's Surveyor-General P. Sangakkara said the new metric system map (1:50,000 scale) was launched after revising it on 2015. "The Surveys Department published their first road map the "Motor Map of Ceylon" in 1902. Those days the maps were published into the scale of 1': 8 miles. This had been revised twice in 1922 and 1959. Subsequently, the maps had converted into the metric system into the scale of 1:500,000 in 1984.

"The metric system had been revised in 2009 and again in 2015. Later the eighth edition of the metric system travellers map was launched this year," the Surveyor-General said.
The new travellers map was launched with new features such as Colombo port city, Hambantota Port, expressways, police stations, hospitals and the places which are important for travellers had been included, Mr. Sangakkara said. "The back page of the map contains railway maps, the Colombo Metropolitan bus map and important telephone numbers. We used satellite technology and ground-level mapping technology to produce the data for the map. Therefore the new edition is very accurate and reliable," he said.

He said the Department is planning to revise this map continuously and hoping to produce metropolitan area maps by end of this year.

"The public can get the map thorough all the Surveys District offices at map sale branches. However, this map will be available to the public in mid-April. As this is a Sri Lankan product, the Surveys Department would like to collaborate with Google and exchange data to make better maps for the public," the Surveyor-General added.