---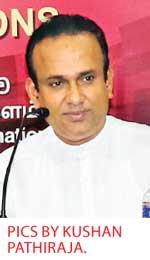 By Sandun A Jayasekera
The cabinet decided to allocate Rs.10,420 million to purchase the entire paddy harvest of the Yala season 2020. The government expects a record harvest this season, Cabinet spokesman and minister Dr. Ramesh Pathirana said yesterday.

At the weekly cabinet news briefing, he informed the media that a programme has been drawn up to purchase paddy through the Paddy Marketing Board (PMB) with the involvement of District Secretaries, Divisional Secretaries and other government officers at regional and rural level since harvesting of the Yala season 2020 crop is scheduled from the second week of July.

Accordingly, Cabinet approved the proposal submitted by the Minister of Mahaweli, Agriculture, Irrigation and Rural Development Chamal Rajapaksa for the implementation of the proposed programme to purchase paddy under a certified price of Rs. 50 for a kilogramme of quality Samba, Nadu and Keeri Samba categories while paying Rs. 42 for a kilogramme of paddy with moisture, subject to a ceiling of 5,000 kilogrammes of paddy per a farmer according to the extent of land that has been cultivated, Minister Pathirana said.