---
International Conference -2017 organised by the Swamy Vipulananada Institute of Aesthetic studies
International conferences are important especially in the field of academics and they play a pivotal role in many ways. They help to create awareness among scholars about current issues and topics vital for the development of a nation as a whole. International conferences are conducted in all fields to ensure that students and scholars benefit from them. It is a way of connecting different people from different places to focus on a particular topic to be discussed, which is of importance to the community as well as individuals.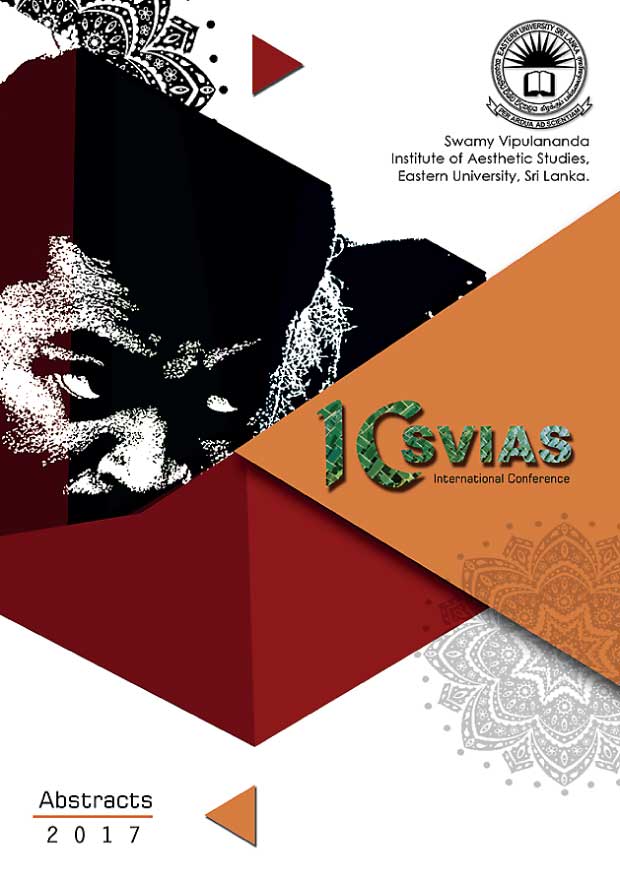 An international conference provides opportunities to meet people from the same field and helps keep track of all advances in a particular field. Making a presentation gives a chance to students and scholars to expose their work and get insight into other scholarly works and gain new ideas from other academics. Academic conferences are always highly productive events for the expansion of knowledge.
In this regard, Swamy Vipulananada Institute of Aesthetic studies conducts it's International Conference every year on different themes relevant to the current situation in Sri Lanka. In 2016, the theme for the conference was "Traditional Arts in the context of Globalization". Following the same line, this year, the theme of the conference is designed to get more insight into a more relevant and important sphere. The theme of the 2017 International conference is "Challenges and Importance of Intangible Cultural Heritage in times of War and Post War". With a thought-provoking theme, the conference is scheduled for three days from 15-17 June. The inaugural ceremony will commence today, followed by various other sessions on the remaining two days.
The theme for this year "Challenges and Importance of Intangible Cultural Heritage in times of War and Post War" is significant because of its close link to Sri Lanka. Sri Lanka, a country known for its cultural background, almost lost its identity during the war. The prolonged conflict destroyed not only the lives of thousands but its precious culture as well.
Before going deeper into the topic certain things have to be made clear. Heritage refers to things that are of great importance and can be passed on to future generations. This heritage can be broadly classified into two main categories –Natural Heritage and Cultural Heritage.
Natural Heritage, as the term indicates, refers to natural aspects like landscape, flora, fauna and beaches
Natural Heritage, as the term indicates, refers to natural aspects like landscape, flora, fauna and beaches. On the other hand Cultural Heritage refers to cultural aspects like monuments, heritage sites, folklore and traditional activities which are culturally significant.
This cultural heritage can be further divided into Tangible Cultural Heritage and Intangible Cultural Heritage. Tangible Cultural heritage can be seen and touched and those that depict the country's history and cultural monuments, shrines, monasteries and other physical infrastructure are culturally important.
Intangible cultural heritage cannot be touched or seen but can be felt and includes traditional music, folklore, languages and other intangible forms of art. Though they are less discussed, they are vital for human existence and cultural transition.
While discussing the Cultural Heritage of the world, tangible Cultural Heritage takes the predominant position and are more authoritative compared to intangible cultural heritage. This can be seen worldwide and is always a topic of discussion among scholars all over the world. In this regard, art, architecture and sites gain importance in tangible cultural heritage. Though rituals, celebrations, practices and performances are considered important parts of socio-cultural events and help in the betterment of life, they are rarely given due importance, discussed in public or documented. In folklore and folktales to some extent, they are given importance but in a Sri Lankan context, especially in the North, they are kept under wraps.
In this regard, during the war and post-war period, cultural heritage attains popularity in shaping society and facing many challenges. These challenges seem to gain importance too.
The release from war, disaster, dislocation and resettlement, feelings, knowledge and skills are considered vital to rebuild life and these seem to be ignored in today's world. It is also campaigned that intangible cultural heritage is discussed only for the purpose of documentation and business. But in reality they are of key concern because they discuss human society and human evolution and movement.They help in the Independent existence of generations and are a pathway for restrictions and regulations.
Thus, with realization or without realization or knowingly or unknowingly, intangible cultural heritage designs life. Therefore, to draw attention to intangible cultural heritage and understand its relevance in today's world, the International Conference 2017 is designed exclusively to get the younger generation involved in things which are of importance.
The conference is designed for scholars from various disciplines and apart from scholars and research scholars, who play the key role, it also focuses on artists, professionals and other experts in various field to take part in participatory research studies which help in fruitful discussions.
In this respect, research is also classified into different dimensions such as performances and exhibitions to bring. These international conferences help upcoming researchers evaluate their works through discussions with scholars and are a driving force for other conferences in years to come.
The International Conference 2017 will commence with the Inaugural Ceremony today at 6 o clock in the evening followed by various sessions tomorrow and day after. In addition to this, an open interactive session and cultural site visit is scheduled for June 18, to make the conference memorable. It will be of much benefit to professionals and academics from different disciplines and people from all walks of life.