---
A good father is one of the most unsung, unpraised, unnoticed and yet one of the most valuable assets in our society
- Billy Graham

When I was entrusted with the task of writing in memoriam of my father, I wondered if I would be able to do this wonderful person justice as to me it seemed impossible to sum up the remembrance of him to a few paragraphs.

I doubted I would be able to contain all the emotions I was trying so hard to bottle up and get on with life; for in a society such as ours what choice do we have. Due to this reason I kept coming up with excuses to postpone the task and tried to justify it to my mother.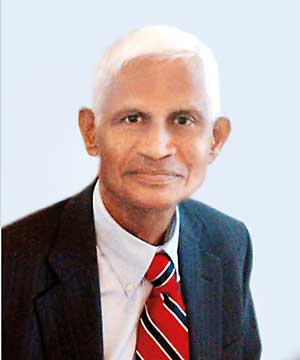 However, it dawned upon me one night while I was reminiscing my wonderful childhood and the years gone by, that postponing this further was a lapse on my part, no matter what the reason behind it was.

On the 5th of June this year my beloved father bade us farewell. There aren't enough tears that could wash away all the sorrow that overcomes me when I realise that such a wonderful human being and the back bone of our family is no more.

Hailing from a middle class family Leslie Sherington Wickramasinghe was born on the January 14, 1943 to Pudias Wickramasinghe, a Station Master during the British Colonial Era and Nancy Wickramasinghe.

He was the eighth child in a family of ten and the seventh son. Despite losing his father at the tender age of three and a childhood that saw its share of hardship, he was never one to give up in life. A trait he carried successfully till the end of his days.

As the youngest child in the family I knew my father to be a strong, multi-talented and successful man who was well established; a hero to many and an individual highly respected by all.

I did not see his initial struggles in life nor the hardships he faced supporting a wife and two young daughters while climbing the ladder, earning respect and a good reputation because of the precision in his work and dedication. Not everyone is lucky enough to have a father like him not only because he was a brilliant Surgeon who worked with great devotion to his cause in saving lives and ensuring his patients received his undivided care but also because as a father he gave us an upbringing which kept us in touch with reality, taught us the value of earning our accomplishments and the importance of taking responsibility for our actions.

He always told us that money is not everything and that integrity and respect earned in society outweighed all material riches.

If he did not approve of something he never hesitated to express it and if someone had disappointed or betrayed his trust he did not feel the need to hide his dissatisfaction. He was a man of generally good judgement and although we failed to see it then, his judgement on good or bad affiliations have proved to be of great accuracy to this day.

No matter whom it was or how a person had wronged him; there was never a day I heard him say that anyone deserved whatever wrong had come upon them. He was not a revengeful man and believed that natural justice would take its course. Being an extremely devoted son he never neglected his duties towards his mother and carried a deep sense of gratitude and love towards her to his last days.

If there ever was a reason that could create an enemy out of my father; it was an attempt to harm his family. He was our defender and our protector.

After retirement and away from the stress of service at the National Hospital we began to see a much more laid back and relaxed side to my strict disciplinarian father. He began to really enjoy life and it was a great disappointment when he suffered a fall resulting in a fracture in 2008.

I will never forget the look of concern and worry in his eyes on his way to the hospital and although he said very little, his expression was easy to read for those who knew him well enough.

That was a turning point and from then on it was with extreme difficulty that we watched the once active and energetic man gradually slow down over the years. He was however a fighter and through many medical ups and downs managed to recover even when some medical experts seemed to give up hope.

He was a great example of someone who loved life despite whatever the situation and never lost the will to live, no matter what obstacles life threw his way. Even in the hardest of times his was a spirit that could not be broken.

He would wait eagerly every evening for me to get back home after work and never ran out of topics to exchange information with me, be it regarding politics, current affairs or our mutual love of music.
He would give me his opinion on all life's decisions and advise me in the best way possible. Rest assured, most of that advice has proved to be the most sensible advice I have ever received.

On the Wednesday before he was hospitalized, I came home after work and after having our usual evening chat he told me that I don't hug him anymore like I used to. I hugged him tight and neither of us had to say a word. It was as if time stood still. We had both fallen asleep and I woke up about an hour later to find him asleep hugging me tight.

He was rushed to hospital on Monday morning and was back to normal within a few hours. We were told he could be discharged in the evening. The consultants' follow up inspection did not happen till two days later and the days that followed are probably the worst and most traumatic days in my life and those I avoid looking back on.

This task entrusted was indeed one that I hoped I would never have to face. It is one that given the choice, each and every one of us would avoid till the end of our days. However, as time flies by we have to face the inevitable truth. Those we love will one day part from us.

My father was a man who left his mark on the world. He was an asset to our country and to his profession. His service was always tireless. Especially during the 90s, when Sri Lanka was severely affected by the civil war and many bomb blasts. Efforts towards ensuring that those affected were given prompt and the best care possible remained his priority. His care didn't stop at the hospital and he managed to save me and restore me back to health while keeping me in the comfort of our home when I fell victim to dengue fever.

Time revealed that his role as a husband and father and his responsibilities towards his family which he never neglected were those that were most appreciated. This also carried a valuable lesson for every one of us.

When he left us that day, he left behind a family that will carry him in their hearts and grieve his loss till the end of their days.

-Beloved daughter Sheahana Wickramasinghe