---
Sri Lanka needs non-recurrence. Myanmar believes it had non-recurrence by law enforcement, intimidation, surveillance, prosecution and building large development projects. Is Sri Lanka also going that way?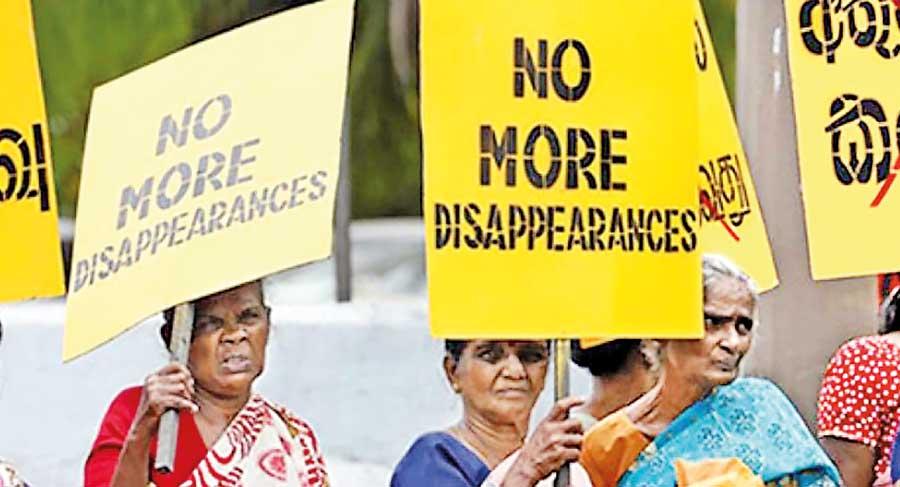 Protests held in Colombo by families of the disappeared
Reconciliation became a buzz word at the onset of the Yahapalana Regime and several attempts were made to

stabilize a transitional justice process. The setting up of the Office on Missing Persons, Office for Reparations and various other commissions of inquiries were little steps made in the right direction. Or that was what all activists involved in conflict resolution, peacebuilding, social cohesion and other roles thought.

When the present government came in to power, activists believe reconciliation once again fell into the gutters and is suffering in the face of militarization and an autonomous governance structure.
At the 2021 edition of 'Night of Ideas' launched by Institut Français in 2016, an event that takes place simultaneously in Paris, Colombo and about 103 other countries, four eminent panellists, who are well experienced in the topics of conflict resolution, reconciliation and social cohesion spoke on the theme 'Reconciliation in Practice'.
We have sustained the roots of conflict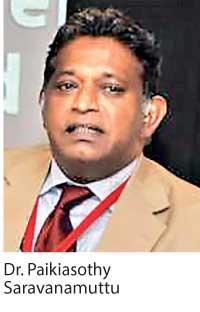 Reflecting on the state of reconciliation at the moment, Centre for Policy Alternatives Executive Director Dr Paikiasothy Saravanamuttu based his argument on the fact that reconciliation was assumed based on a pre-existing relationship.

"The need for reconciliation arises because that relationship has been broken. Furthermore, reconciliation requires the acknowledgement of the pre-existing relationship and the breakage of that relationship and a desire to mandate. Without the need to acknowledge the break in the relationship and the need to come together to repair it, reconciliation will not happen."

"If you take the Sri Lankan context the challenge in 2009 after the LTTE was defeated was to move from that situation of war and conflict to a post-conflict situation. A situation, in which the roots of conflict would be addressed.
"Unfortunately, 12 years later, in Sri Lanka we haven't moved into a post-conflict situation and have sustained the roots of conflict and have opened up a new side of the conflict with Sinhala-Muslim relationship with greater intensity.

"This includes everything from the question of Halal Certification to burial or cremation and the conflict is still there. In between we have the Easter Sunday bombings, which would lead to greater radicalization," he added.
Dr Saravanamuttu said that in 2015 Foreign Minister Mangala Samaraweera addressed the UNHRC and agreed to set up four mechanisms to deal with transitional justice as the route towards reconciliation.

"They were the Office on Missing Persons (OMP), Office for reparations, Truth and Justice Commission and the most controversial of all was an accountability mechanism, which would include the proactive participation of
international judges.
"The moment that passed at Geneva, back at home, the President and Prime Minister took no time in announcing that no member of Sri Lankan security forces would be sent to a court or tribunal which involved non-Sri Lankan judges."

Adding his thoughts on militarization attempts, Dr Saravanamuttu said that the military victory in 2009 has an effect passed into the psyche of the majority community of the country as that being the end of the story.
"Nothing more is needed to be done. We know that in the North and East you have an Army, effectively in occupation. But it's not just in occupation, it's an Army that acquires land without due procedures, grows vegetables, sells vegetables and has intruded into the very life
of the population.

"This of course is not going to be restricted to the North and East because we now have former and sitting military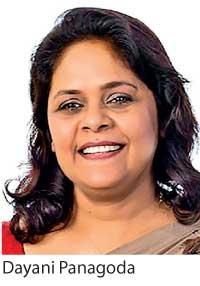 officers in key positions, not only taking care of COVID-19 pandemic but also teaching English for children in rural areas and who will also provide training in discipline and rule of law for undergraduates. So what we have got is militarization."

He questioned how people would have faith in Sri Lanka's justice system that pardons convicted murderers.
"Is this the justice system that will provide reconciliation for thousands of mothers and fathers? We need reconciliation but every one of us needs to understand why we need it. We need to aim for a decent and civilized society where institutions do not mingle with citizens and citizens do not humiliate each other."
Going beyond compensation and forgiveness
Sharing her engagements with marginalized communities to foster reconciliation, peace and women's rights activist Shreen Abdul Saroor said that Sri Lanka was a diverse country and survival depends on equal treatment.
"Discrimination, violence against Tamils led to war and displacement. After the Easter Sunday bombings, the government detained hundreds of Muslims without charges and turned a blind eye when mobs attacked Muslim homes and businesses. Today media outlets spread rumours blaming Muslims for Covid -19 while until recently the government maintained a forceful cremation policy that stripped Muslims of dignity in death."

"Given our system of impunity and systematic inequalities, the term reconciliation seems to tell our people to forgive, reconcile and move on without knowing the truth and receiving justice. As a victim of the Northern eviction who still cannot return home, I can forgive but cannot forget. Thousands of women lost loved ones, they are trying to find people who disappeared and loved ones who are languishing in prison under the Prevention of Terrorism Act without any charges. Some are also fighting for the return of lands forcibly seized by the military. The remains of the Muslims who died allegedly of covid related complications were forcibly cremated against deeply held customs and religious beliefs," she stressed.
"We need to have non-recurrence. Myanmar believes it has non-recurrence by law enforcement, intimidation, surveillance, prosecution and building large development projects. I have a feeling my country is going that way. But that is not the way. Have we thought about how we could heal?"
"Sri Lanka's policymakers often connect reconciliation to compensation and forgiveness. In Sri Lanka, they tie reconciliation to development dollars promising new buildings and roads, with little input from communities.
"Affected women reject these offers and argue time and again that reconciliation is a long mission and need political will. They want the State to acknowledge their plight, guarantee changes so they can heal and move forward. Truth, justice, reparations and non-recurrence is the only reconciliation that is ever possible."
She also added how the Women's Action Network was able to demand reconciliation in its work before the transitional justice task force. The task force set up by the previous government to capture how people wanted to reconcile and move on had around 60% female representation.

"Reconciliation requires a structural transformation of the relationship between citizens and the State. We require a new system where discrimination and violence no longer occur. Sri Lanka must protect Fundamental Rights, uphold the Rule of Law and ensure equal justice and peace. Keeping with its inclusive nature, women must have 50% representation in post-conflict rebuilding structures including electoral bodies," she said in conclusion.
Void in a mechanism to provide psychosocial support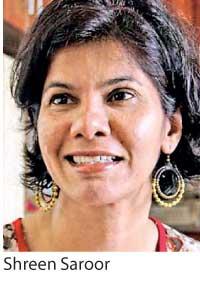 "While going by the four mechanisms introduced to seek truth and justice we also need to connect with these communities whenever possible," opined Dr Dayani Panagoda, Policy Specialist, Lecturer and Activist in social cohesion, reconciliation and peacebuilding.

"Building trust is not easy. There has to be a mechanism of psychosocial support and addressing trauma. Most women haven't been treated for their post-traumatic stress and haven't been diagnosed properly. Mental health itself is taboo in Sri Lanka and because of that people don't want to talk about psychosocial support. But it is also important to note whether building a road or constructing a canal is the only thing that could be done to the people.

"What these communities want in common is the truth. People might say give compensation but their loss is both physical and emotional."
"Reconciliation needs political will. It also needs competencies and people at service delivery points who will serve the people who seek services. People say that their documents are lost. Therefore, legal clinics are important. We need to heal our wounds. What we are not doing is learning about others from their perspectives. We are not looking into the concerns of women, girls and younger generations. Everybody needs to understand their role in reconciliation."
She also emphasized Tamil language proficiency and how media has not been positive towards reconciliation.
Sensitivity as the guiding principle of reconciliation
Drawing examples from a universal template to bring about reconciliation, lawyer, diplomat, Human Rights advocate and former Under-Secretary-General to the United Nations Dr Radhika Coomaraswamy said that ideas of reconciliation we have today originated in the 1970s with similar violence and related disappearances in Latin America and South Africa, Eastern Europe, Bosnia and Herzegovina and East Timor.

"From these worldwide experiences have come frameworks, strategies and best practices for reconciliation. The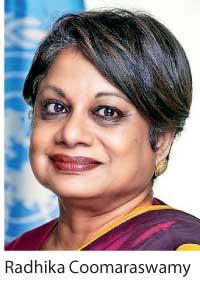 first element in this whole framework of reconciliation is peacemaking through negotiation. This is to have a dialogue of inclusion to see how you could get women to the table, bring them face to face with peacemakers and the constant desire to have a dialogue. This shows there are commitments and negotiated peace processes."
"The second element is peacebuilding. Especially after the war, we have the economic and social aspects of peacebuilding. This has a political element where every major country in the world would have a constitution that would set out a new way of doing work where everybody would have a stake in. Peacebuilding also meant Disarmament, Demobilization and Reintegration (DDR) not only of those who came into conflict but also of the Army.

"The Army has to be demobilized and reintegrated. Young men must be given opportunities. If not, it would drive society towards militarization and destruction of democracy. The non-imaginative dealing with DDR makes the younger generation frustrated. Without DDR you will have a large army. Peacebuilding also includes social cohesion. This is where media, education and continued visits need to be done. Likewise, there are enormous amounts of best practices that have been borrowed upon."

Dr Coomaraswamy then spoke about accountability and truth-telling as the third element.
"You can't get away from that. Societies don't heal unless issues of justice are dealt with and the truth is confronted. Usually, the preference is for some kind of domestic process but if it doesn't work it will go international. Any accountability or truth mechanism should enjoy the confidence of victims. Credibility and legitimacy of institutions should be ensured."

She also spoke about memorialisation, where war memorials and monuments have been built for soldiers to mark their victory and suggested that there should be memorials for victims as well.
"This is to recognize and acknowledge the suffering they have gone through."
"However, there is a challenge of having a universal body of expertise. The universal template cannot fit all societies. There may be a lot of local solutions about reconciliation that we may ignore. Hence we need to look at what is more innovative and responsive. The ultimate goal of reconciliation is to build bridges, create trust and there are creative ways in which it could be done. We may have perfect documents but the political will may not be there."

"We need to have non-recurrence. Myanmar believes it has non-recurrence by law enforcement, intimidation, surveillance, prosecution and building large development projects. I have a feeling my country is going that way. But that is not the way. Have we thought about how we could heal?
Sometimes processes are mentioned but what does it mean to the actual lives of people? Reconciliation is not a process but to me the guiding principle of reconciliation is sensitivity and that has to be the guiding principle for the State," she said.