---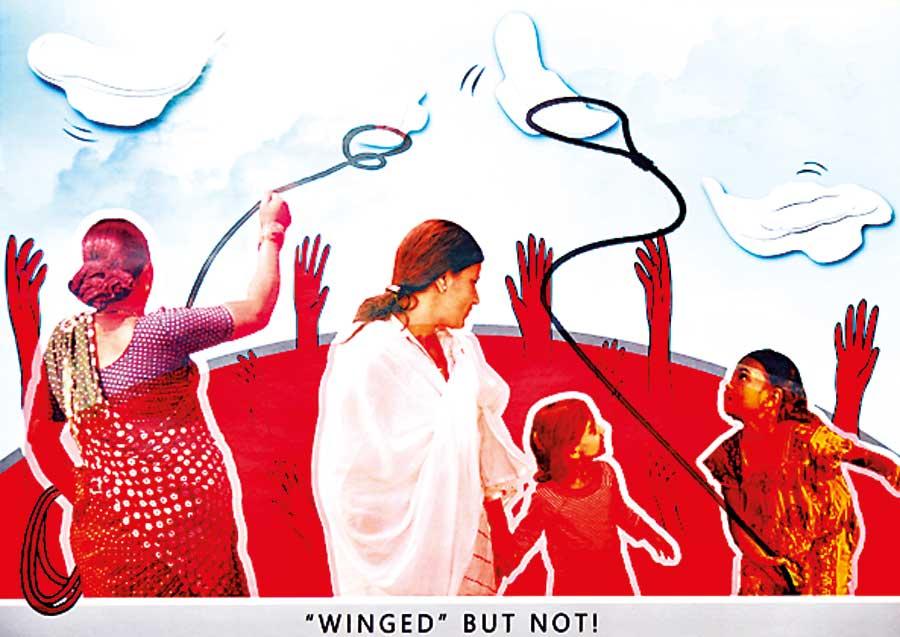 Pics by Romesh Danushka De Silva
Even with 52% women in its population, the majority of Sri Lanka's women and girls are unable to make

themselves productive, especially due to menstrual cycles. As a majority of women and girls, especially in rural areas, do not have access to and cannot afford to purchase sanitary napkins, many of them opt to stay at home. During their periods, girls also choose to stay away from school. It is in such a backdrop that Opposition Leader Sajith Premadasa proposed to issue free sanitary napkins as means of eradicating period poverty during the Presidential Elections. Although he came under heavy scrutiny, at present, the Samagi Jana Balawegaya (SJB) and the Samagi Vanitha Balawegaya (SVB) are in the process of transforming this idea into reality. At a recently concluded event held in view of International Women's Day, the SVB launched the End Period Poverty in Sri Lanka campaign along with an art competition that addressed the issue.
Proposal to restore media ethics
"The Samagi Vanitha Balawegaya is an idea proposed by Mrs. Jalani Premadasa and what began with three or four members have expanded into a major organization spanning across all corners of the island," said Hirunika Premachandra, former Parliamentarian and SVB National Organiser. "Irrespective of political inclinations we have managed to penetrate into rural areas. Once the idea bore fruition a few months ago, Mrs. Premadasa insisted that a women's wing is needed. So she requested us to take the lead and today we have established SVB teams in Kurunegala, Kandy, Polonnaruwa, Anuradhapura and several other areas.

"During the previous Presidential Elections Opposition Leader Sajith Premadasa took a risk to address issues pertaining to period poverty. He proposed to issue sanitary napkins to women who cannot afford these products. We women still feel ashamed to talk about it.

"Girls face much harassment in many settings. One of the loopholes is where even the education system has placed a taboo on these topics. Therefore teachers are reluctant to teach sex education in schools. When Mr. Premadasa said that sanitary napkins should be given to girls who cannot afford them, he was subject to humiliation. But today we hear that necessary actions are being taken to implement his proposal. However we too will be implementing a programme to issue sanitary napkins as well," she added.

Premachandra further criticised the media for further victimising women when it comes to a case of murder, abuse or rape. "We need to stand up for the rights of these women and ensure that they are not further victimised during these circumstances. A murder has become normalised and people are ready to laugh at the woman. What is the message we are going to give to our children? I propose that we as a party should request all media to be more ethical when reporting news that involves women," she further said.

Gender parity and shattering the glass ceiling
"It takes lots of courage and bravery for politicians, policymakers, women and men to stand up and talk about this issue," said United Nations Resident Coordinator, Hanaa Singer. "This year International Women's Day celebrates the international effort by women and girls around the world in their fight against the COVID-19 pandemic. This is especially important as women and girls are affected disproportionately by COVID-19. Therefore they need to be included in planning recovery measures in response to this pandemic.

"Some factors play a key role in building an equal and inclusive world. Equal representation is one of them. Ending period poverty is a critical element in addressing this. In addressing discrimination and violence against women and girls efforts to repeal all discriminatory laws and traditions in all spheres must continue from labour and land rights to personal matters and protection against violence and to enact emergency response plans with appropriate policies. All these require a shift in people's mindsets and for everyone to take action to call off and call out biases and discrimination. We cannot develop on the promise of leaving no one behind in development if half of our work is left behind, underrepresented, cannot go to school and work because of certain natural cycles in life. As a collective movement we need to strive hard to push for gender parity and shatter the glass ceiling," said Singer.
Need to value role of women
"On the occasion of celebrating International Women's Day I feel it's important to understand the issues and challenges faced by women in our country," said Opposition Leader Sajith Premadasa. "Women's participation in the economic sector lies at 35.9% and has further reduced to 32.5% due to the pandemic situation. According to recent statistics it has been found that Sri Lanka will lose as much as USD 20 billion by 2025 with less women participating in the economic sector. In addition, 6.9% of women are unemployed. In contrast, only 3.6% males are unemployed. Even if women are employed they work in underrated professions and therefore have no job satisfaction. The success of Japan's economic growth rate depended on its savings percentage. Even in Sri Lanka, our women have the skill of saving money and maintaining expenses in the household. This way they immensely contribute to the economy. We also shouldn't forget women who go abroad for foreign employment. But unfortunately they are now being forgotten. If we take the education system, Sri Lanka lies at the 90th position. Students have been deprived of their educational facilities.

"The topic of period poverty has never been addressed at a national level. Without proper sanitary facilities women suffer from cervical cancer and even develop infections in the urinary tract, but these issues were not known. Around 1/3rd of girls in the country stay at home during their period since they don't have napkins to wear to school. Nobody expected that there would be eco-friendly sanitary napkins at an affordable price. Gender based violence is another issue our women face. This could be at their house, when going out in public or in their workplace. Harassment could either be verbal, physical or psychological. Sri Lanka has close to 12 lakhs of female-headed households. This shows that there are 20% female- headed households in every district. But there aren't any programmes that would benefit them. Women's participation in democratic governance is also poor. Malnutrition doesn't receive much attention today, but stunting, malnutrition among mothers, low birth weight and mothers with low Body Mass Index are some of the nutrition-related issues at hand. The Triposha programme also happens with a lot of checks and balances. This has never happened before and it needs to be rectified," he added.

Another issue is with regard to maternity leave. "Initially expectant mothers were granted 84 days leave. But it has now been brought down to 42 days and a circular too has been issued regarding this. Women are also falling into the microfinance debt trap. When the husband's income isn't sufficient, women also try to venture into small scale businesses and this is where they discover microfinance options." said Premadasa.

He however announced plans to establish a special Presidential Taskforce on Development and Promotion of Women along with a separate commission that would address women's issues. "Statics regarding harassment and violence against women and child abuse are in black and white. Law reforms are mandatory and the judiciary needs to be transparent when hearing these cases. Due to the pandemic women have been further pressured and challenged. But we aspire to value the role of women with several initiatives in the pipeline," he said.