---
The book singles out Good Governance as the most important criterion for sound development management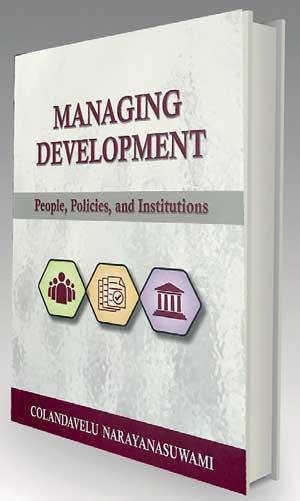 C. Narayanasuwami's book entitled Managing Development; People, Policies and Institutions is a carefully and handily crafted compendium containing 24 papers on development management with special reference to developing countries.

The book is divided into four parts; namely Governance, Institution Building for Development, Agrarian Reform and Rural Development and Monitoring and Evaluation for Development. The author has done the grouping meaningfully; thus covering four of the most critical areas in managing development, while avoiding possible overlapping. The book is not a mere narration of facts and findings. It contains an insightful analysis. In compiling the book, the author has brought to bear the multidisciplinary and the multi sector approach as demanded by the nature and substance of the subjects under discussion.

The book singles out Good Governance as the most important criterion for sound development management. Transparency, predictability, accountability, rule of law, independence of the judiciary, efficient and uncorrupted public service and media freedom among others are vital elements of good governance.

The papers in this part cover several areas of good governance in Sri Lanka in particular ranging from depoliticization of the public service; post war reconciliation and reconstruction, capacity development for aid absorption and the successful conclusion of a free and fair General Election in 2015.

Part 1 of the book is on governance and it contains six papers. They are on diverse topics ranging from Public Administration and Elections in Sri Lanka to Capacity Development. The thematic paper in this part entitled "Public Administration in Sri Lanka and the Nineteenth Amendment to the Constitution; Prospects for the Future", discusses the cardinal elements of good governance enshrined in the 19th Amendment and how they have revitalized and strengthened the public administration in Sri Lanka. The paper addresses issues such as depoliticization of the public service, fulfillment of public interest and the need to move in the direction of an outputs and outcomes based public service.

The author dwells extensively on the need for public administration reforms and the mode and manner thereof. However the author sounds rather pessimistic of a positive outcome and concludes as follows.

"It is difficult to transform overnight a public sector that has become heavily dependent on political patronage into one with systems and processes that are transparent".

In support of the author's contention it is pertinent to state that the bane of the Public Service in Sri Lanka today is the over staffing of every conceivable state sector agency with redundant employees of all types and grades by successive governments. Sri Lanka with a population of 21 million has to sustain a state service of over one and a half million employees.
Part 11 of the book contains seven papers under the caption "Institution Building for Development". They deal with a broad spectrum for institution building interventions made by the ADB in association with developing member countries, nongovernmental organizations, other donors etc. The papers provide a comprehensive view of institutional development interventions at the country level and how structural and innovative policies and sound leadership helped in enhancing capacities and providing durable solutions to intractable problems. This section contains a rich selection of papers on Institution Building and Capacity Development in general and with special reference to Poverty Reduction, Water Management and Agricultural Development. The author has highlighted that "Capacity building for agricultural development is a complex, multidimensional and time consuming endeavor because it seeks to bring about changes in human behavior."

By quoting copiously from the lessons learned from failures as well as from success stories the author has given life to an irredeemably dry and boring range of subjects covered in this section. It must be mentioned here to the credit of the author that institutional development and capacity building have been the author's forte all his life.

Part 111 of the book contains five papers on Agrarian Reforms and Rural Development. In many developing countries agrarian reform including land reform is deemed to be an essential prerequisite in combating agricultural backwardness and stagnation. Agrarian reform has been a key element of agricultural and rural development programs in many developing countries. While many countries struggled to cope with the demands of structural changes brought about by agrarian reform; countries such as Japan, the Republic of Korea and Chinese Taipei have achieved commendable successes due to sound political leadership and good quality reform interventions. Many countries like Bangladesh, India, Pakistan and the Philippines faced structural impediments leading to many setbacks and loss of agricultural productivity. The papers in this section deal with a variety of subjects ranging from Agrarian Socialism, Rural Development and Compact Farms to Migration and Resettlement Policies and the Agrarian Research and Training Institute in Sri Lanka.

The lead paper in this section entitled "Agrarian Socialism; A Search for a Middle Way in the Third World" written in 1977; is a unique piece of writing which projects the author's versatility and acumen in development management. The paper reflects on Sri Lanka's socio political conditions, beliefs and approaches to governance in the 1970's, which emphasized a middle path approach to economic development embracing neither the orthodox socialistic doctrines nor the classical western capitalistic model.

I quote

"The middle path approach followed in Sri Lanka has reduced income disparities and redistributed wealth among a large section of the population. But to what extent has this been matched by improved economic growth? The average rate of economic growth in Sri Lanka has not kept pace with the equalization of opportunities in the social sphere due largely to factors beyond the control of the country. In the interdependent world policies of international trade and inflationary trends quickly disturb and distort the pattern of equilibrium in growth. A self-reliant economy is only possible within limits in a country that is heavily dependent on export markets for primary exports and the import of industrial raw materials. Would the countries in the third world following a middle path approach finally succumb to a more revolutionary form of socialism or revert to the liberal capitalist ideology under different forms of leadership? These are questions that remain unanswered"

The above assertion of the author still remains valid after 42 years. The economy of Sri Lanka still floats between the devil and the deep blue sea!!

Part 1V of the book contains seven papers on Monitoring and Evaluation for Development. Monitoring is an integral and an important part of the project development cycle. Monitoring addresses whether project inputs are being delivered; are being used as intended; and are having the desired effects as planned. Monitoring is an internal project activity; an essential part of good management practice and therefore an integral part of day to day management of projects. Evaluation is a process that helps policy makers during different stages of policy planning and development to improve the quality of decision making.

It seeks to find out whether a program or project activity is being implemented according to set guidelines and goals. The papers in this part cover comprehensively the entire gamut of principles, technicalities and operations as regards monitoring and evaluation of projects and programs for development. They range from basic concepts and issues in project monitoring and evaluation to performance evaluation, post evaluation and capacity building for monitoring and evaluation.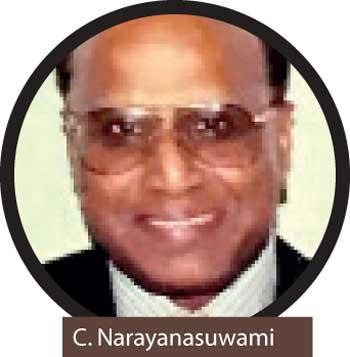 All these papers are highly technical, educational and professional both in scope and content. This is because the author is well versed in monitoring and evaluation having served for many years as a senior professional and subsequently as a Director level official of the then Post-Evaluation office of ADB.

In conclusion, I wish to place on record the following observations. Firstly, the author has painstakingly placed on record a vast store house of systematic information and knowledge on the mode and manner of managing development with special reference to developing countries. Secondly, the author has been able to give not only life and soul but also vigour and vitality to a set of dry and drab subjects normally shunned by many. Thirdly, the book is not dogmatic and theoretical as one would expect but practical, lucid and down to earth as it is largely based on empirical knowledge and research studies. I commend this book as a compulsory reader to all Development Administrators and Managers in the developing countries.

Narayanasuwami, C, Managing Development; People, Policies and Institutions

K.H.J. Wijayadasa holds a Post Graduate Diploma in Economic Development (Oxford), Secretary to the Prime Minister of Sri Lanka 1984-1988, Secretary to the President of Sri Lanka 1989-1994