---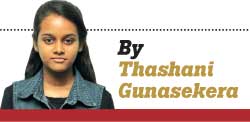 "In the absence of parental care, siblings often become the most important people in each other's lives..." The most cherished memories that are often treasured are those that lie within one's childhood. Reminiscing and reliving the moments spent amongst laughter and happiness with family is a common pleasantry that the best of us may be charged guilty of. But not everyone holds the fortune of experiencing a happy childhood. Childhood treating them cruelly, from a very young age a handful of children are orphaned due to the demise of parents, abandonment by parents, poverty or disharmony at home which may include domestic violence, alcoholism and land disputes.
That is where SOS children's villages Sri Lanka (SOS CVSL) steps in. Established in May 1980, under the agreement of SOS Kinderdorf International and the Ministry of Social Services, government of Sri Lanka, SOS CVSL is committed to the welfare of these children who are orphaned, abandoned or neglected and deprived of a happy childhood, giving these children the opportunity to build lasting relationships with a loving family by placing them in homes that are part of an actual village in a family-based long term care with individualized attention, helping them to shape their own futures. Currently there are 6 SOS villages in the country and around 40 other SOS projects being managed. SOS CVSL supports children and adolescents by providing day care, education, vocational training opportunities and medical services. Through their most valued family strengthening programme, SOS CVSL provides direct support, education and counseling to families experiencing hardships, so that parents can cope up with their burdens and the ultimate goal being that the children continue to grow up in their own families, preventing the misfortune of these children losing parental care and thus leading to the worst case scenario i.e. institutionalization. Their vision is that every child belongs to a family and should grow with love, respect and security. Their mission is to build families for children in need, to help them shape their future and share in the development of their communities. Children whose families cannot take care of them can find a loving home in one of the SOS families.
Sibling relationships are emotionally powerful and to be separated with siblings, the only bridge to the natural families of these children in need, can add to the trauma that they undergo through the separation with their parents prolonging their distress. "In the absence of parental care, siblings often become the most important people in each other's lives" Hence in the efforts of avoiding such emotional upheaval, 'keeping siblings together' was initiated under 'never give up on a child' advocacy programme of SOS CVSL which can be regarded as yet another endeavor by SOS village in ensuring the best interests of the child. To shed more light on the initiative, 'keeping siblings together' for public awareness, the Daily Mirror spoke to Ms. Chathuri Jayasooriya, national advisor-advocacy, SOS CVSL.There is no smoke without fire and when asked what led to the initiation of 'keeping siblings together' she related a heartfelt tale that dated back to November 2014. "The Juvenile Courts in Battaramulla gave an order for a child to be given in adoption where the child concerned was one of a pair of twins who were living at SOS CV Piliyandala. The child was 11 years old and did not wish to be adopted by being separated from his siblings, yet in April 2016 the relevant District Court Judge gave an interim order for the adoption regardless, claiming it to be 'in the best interest of the child', violating both the law and the rights of the child. The children were greatly affected emotionally following the adoption process as they did not want to be separated."
The child didn't settle down with the adoptive parents. This caused distress not only to the separated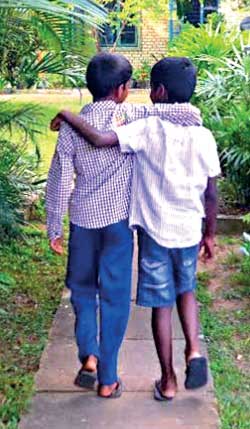 sibling but also to the adoptive parents as well and finally the child was reunited with his siblings and the SOS family in August 2016 as he was unable to adapt to the new family. Ms.Jayasooriya described the moment of the twins' reunion as a 'heart-rending moment'. She further pointed out that the only biological link that these children have in the absence of parental care is with their siblings and separation can cause immense emotional dilemma on the children. The importance of the bond between siblings is strongly highlighted through what a child from SOS CVSL had to say regarding this matter. "It is such a blessing that I get to live with my elder sister. We have a strong bond between us. I won't be able to bear it if I ever have to send her to a different place. I won't be able to express that pain with words. If something like that happens,either I will go with her or I will find her somehow.We can never be away from each other."And so the initiative 'keeping siblings together' was born.
According to the UN guidelines of 2010, the UN provisions articulate that, 'siblings with existing bonds should in principle not be separated by placements in alternative care unless there is a clear risk of abuse or other justification in the best interests of the child.' It is further stipulated that 'every effort should be made to enable siblings to maintain contact with each other, unless this is against their wishes or interests'. The issue of sibling separation has also been addressed by the national child protection authority in the draft, 'guidelines and standards for child care institution in Sri Lanka (2013)' which states, "Priority should be given to children with siblings when allocating them to institutions and efforts should be made to keep the family intact as far as possible." But this issue has not been addressed in any of the key laws and policies pertaining to alternative care of children ordinance and the orphanage ordinance. Miss. Chathuri remarked on this by saying, "However the above guidelines are not commonly known, referred or adhered to by child care institutions or relevant government officials including some probation officers and judges, who routinely separate siblings owing to current practice."The advocacy programme, 'keeping siblings together' has also developed a policy brief which includes recommendations pertaining to this matter which has already been presented to the government and civil society stakeholders which has been received positively, and is to be extended shortly to the public and child care institution owners, managers and caregivers.
It has also been stated that SOS CVSL is lobbying with the ministry of women and child affairs for a circular to be issued in order to solidify the efforts of keeping siblings together. The circular is expected to be issued to all relevant stakeholders including law enforcement authorities.SOS CVSL is also lobbying with the provincial commissioner to issue circulars and incorporate it into existing provincial laws and policies. However, Miss. Jayasooriya stresses on the fact that all their hard work will come out meaningless without the infrastructure and the resource basis to implement them.
"Although as a country we still do not have sufficient infrastructure to accommodate the siblings, especially sisters and brothers, together in the same child care institution except SOS CVSL and a few others. This circular is expected to raise awareness among relevant authorities on prevention of possible sibling separations until such facilities are made available island wide." Siblings placed in alternative care are separated primarily on the basis of gender. Only 19% of the child care institutions accommodate both girls and boys while some of them admit both genders only up to a certain age due to cultural and systematic issues. "The govt should take measures and invest resources as there is a resource issue that exist within children homes and the accommodation of both boys and girls is not possible. I am only requesting the renovation of existing homes to accommodate siblings of both genders, improving the facilities as well as the capacity of caregivers in at least one chosen child care institution in each district to accommodate and care for natural siblings of both genders."
Ms. Jayasooriya noted that the heads of both the NCPA and the National Department of Probation and Child Care Services (DPCCS) have agreed to this proposal and they are currently continuing discussions in this regard to explore ways in which this can be done practically.